A New Phase Of Competition
Following the battles, The Voice revealed that it would be introducing a new round to Season 16. Instead of moving into the knockout rounds like normal, a new round called the live cross battles took its place.
The cross battles pitted members of different teams against each other, and each one sang a solo to fight for their spot on the show. Instead of letting coaches pick the winners, the viewers got the chance to vote for them.
However, the coaches did get a little bit of say, since they each had one steal and one save available.
Live cross battles conclude on #TheVoice https://t.co/S2LASAkAQb pic.twitter.com/BaeJsmkV9Z

— Hollywood Reporter (@THR) April 23, 2019
The cross battles aired over the course of two weeks. In the second week of competition, Team Blake's popular team member Gyth Rigdon went head-to-head against Abby Kasch of John Legend's team.
Picking His Coach's Own Song
Both singers chose country songs to perform, with Kasch selecting Carrie Underwood's "Cupid's Got a Shotgun." Rigdon chose to take a major risk, picking a song by his own coach to perform.
The song he decided on was "Goodbye Time," which was originally recorded by Conway Twitty.
Twitty's version climbed to the seventh spot on the charts, and its popularity likely prompted Shelton to record his own rendition. Shelton's version of the devastating breakup ballad was released in 2005, and it peaked at the tenth spot on the chart.
In doing so, the song became the fourth Top Ten hit of Shelton's entire career.
A Lot Of Pressure To Perform
So on top of the pressure that comes with singing your own coach's song, Rigdon also had a lot to live up to with his performance since Twitty's original rendition is so beloved.
But Rigdon didn't cave under that pressure. Instead, he delivered a powerful and moving performance that surely had most of the audience members in tears.
The camera only showed Shelton's response from the side, but even in those sparse shots we could tell that he was in awe of Rigdon's performance. He also stood at the end of the song, giving him a well-earned standing ovation.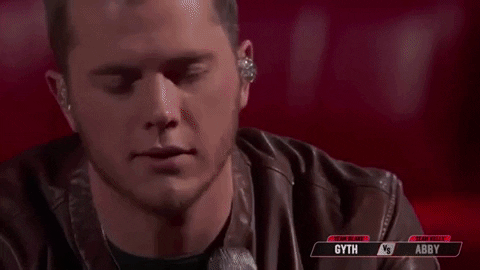 You're sure to be equally impressed when you watch Rigdon sing "Goodbye Time" in the clip below. The whole point of the cross battles was to bring out the best in the competitors, and it certainly brought out the best in Rigdon!