The Voice Honors The Beatles
In all of music history, it can be argued that no group has ever been as influential as The Beatles. Artists of all genres cite the British rock band as a source of inspiration, and many of their songs are regarded at classics.
But what if the Beatles never existed, or rather, what if everyone forgot about them except for one person? That's the scenario that plays out in the film Yesterday, in which everyone on Earth forgets the Beatles and their music except for one man.
Soundtrack album announced for Danny Boyle's 'Yesterday' feat. Beatles cover songs performed by Himesh Patel (& Lily James) and score by @DANIELPEMBERTON. https://t.co/EcYaVJzYpd pic.twitter.com/R4iiMBaf0h

— Film Music Reporter (@filmmusicrep) May 13, 2019
In honor of the film's debut in June 2019, the Top 8 contestants on Season 16 of The Voice paired up to perform a number of Beatles songs. Team Blake country singers Gyth Rigdon and Dexter Roberts were tasked with singing one of the group's most iconic hits, "Hey Jude."
Released in 1968, "Hey Jude" was co-written by John Lennon and Paul McCartney. The song topped the charts in multiple countries around the world, and was a Billboard Hot 100 #1 hit in the U.S.
Another Competition Series Star Sang It Too
A song that iconic carries a lot of weight, and anyone who ever performs it is well-aware of the pressure they're under to pull it off. That pressure was surely even greater for Rigdon and Roberts, as "Hey Jude" had just been covered the night before on another major competition series.
In honor of his "hero" older brother, American Idol star Laine Hardy took to the stage as a member of the Top 5 and performed "Hey Jude." Everyone loved his performance, especially his brother.
After the warm reception to Hardy's rendition of "Hey Jude" the day before, Rigdon and Roberts knew that viewers would likely be comparing their performance to his. But they didn't let that pressure get to them.
Instead, the pair delivered a smooth and effortless performance that perfectly highlighted their individual talents. The stage setting helped enhance the tone of their performance, as the pair was seen singing in a setup resembling a recording booth, while "extras" on stage looked on as if they were watching them record a song.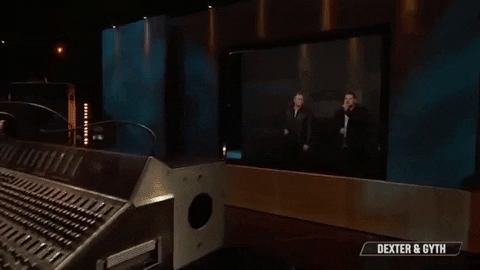 Viewers Loved It
Following the performance, Roberts expressed how much fun he had performing both his solo song and his duet with Rigdon. He asked his fans what they thought, and the resulting replies were entirely positive.
Many simply replied with comments of "amazing" and "nailed it," while others penned more detailed responses.
I just got an awesome idea… You Andrew and Gyth should record a song together. That would ROCK!!!!

— Brenda Kerlin (@brenda_kerlin) May 14, 2019
You were at your best ever tonight!!!! I loved your song and your duet! I pray you will WIN IT ALL!!!!!!🙏🙏🙏🙏

— Debra Griggs (@GT_Debra) May 14, 2019
Now it's time for you to see what all of the fuss is about by tuning in to Rigdon and Roberts' rendition of "Hey Jude" below.
How do you think they did in comparison to Hardy the night before? We love both of their versions!