If you watched Season 2's American Idol auditions, you've learned that one thing is certain….you were brought to tears by at least one contestant. Year after year we've seen contestants audition who have overcome disabilities, devastating loss, heartbreak and incredible odds. This season was no exception.
27-year-old Lauren Engle stood in front of the Idol judging panel alongside her brother-in-law, who was accompanying her on guitar, as she sang a song she had written. But, it wasn't any ordinary song. Engle wrote the song after losing her husband in a horrific car accident.
"Last year, I was involved in a terrible car accident with my husband," Engle told the judges. "Losing him made me realize that I have nothing else to do but to keep doing music…and to honor him."
Engle met her husband, Garrett, at a Halloween party and they connected immediately over a mutual love of music. He would play guitar while she sang.
Going through photos and videos. You will always have my music heart ❤️ I'm forever thankful for you showing me a love for music on another level.

Posted by Lauren Hollinger Engle on Wednesday, August 30, 2017
The two married in 2014 and began a tradition of going out for a special evening together every Sunday. But, one Sunday evening in 2017, the Engle's were struck by a car that had run a red light.
"Next thing I knew, I woke up in the hospital," Lauren recalled. "I never thought at 27-years-old, I'd be a widow."
Lauren began to sing "Compass," a song she wrote for her late husband that she called "a timeline of our journey together." Lionel Richie and Katy Perry visibly fought back tears as she sang the heartfelt lyrics. Luke Bryan struggled with his emotions, but was quick to praise the singer following her audition, saying "You have a good, good, good country voice. It's really solid."
The judges unanimously voted to send Engle through to the next round, but not before bringing her to tears. "He was a very lucky man," Lionel Richie said. "Forget about the competition for a moment. You have a mission for the rest of your life to be you. Enjoy the ride."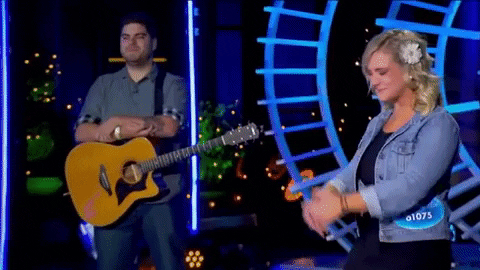 Engle's rich voice wowed us and left us anxious to hear more. Although she didn't make it very far this season, we're certain this is just the beginning for the talented singer.
Watch Lauren Engle's full American Idol audition below.