On October 29, Kane Brown and his wife, Katelyn, welcomed their firstborn child. Katelyn gave birth to a baby girl, and she and Kane named her Kingsley Rose Brown.
"KB3," Kane wrote when he announced his daughter's birth on Instagram. He and Katelyn always used to refer to themselves as "KB2," since both of their names start with a "K." Now, Kingsley makes them KB3!
A week before Kingsley was born, Kane posted a short video tour of her finished nursery on his Instagram. The brief tour showcased her beige and gray room, with its only pop of color being a blue neon sign above the crib that reads "Kingsley."
Kane's tour also tossed the spotlight on some of the animal-themed accents in Kingsley's room, including a giraffe rocking horse, a plush puppy, and a painting of a lion wearing a crown.
Now that Kingsley is here, the Browns offered another, longer tour of her nursery. Extra stopped by the couple's house to see Kingsley's room, and Katelyn was happy to show it off, calling it their "favorite room in the house now."
Extra described the room as having "an enchanted forest theme," which comes out through the tree-patterned wallpaper and animal accents. Katelyn was quick to point out the painting of the lion, saying, "I feel like the lion really represents strength." 
She also spoke about the neon sign above Kingsley's crib. "I love the neon light. It kind of just, pops when you walk into the room," she said.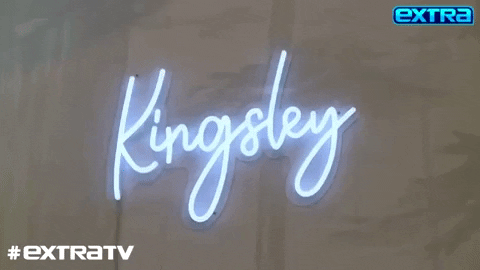 Later in the interview, the Browns talked about how they plan to have a crib installed in Kane's tour bus so Kingsley can comfortably travel with them on the road this year. Kingsley will soon have two places to sleep!
You can watch the full tour of Kingsley's forest-themed nursery by tuning in to the clip below. Which part of the room is your favorite?
We have to agree with Katelyn, the neon sign is super cool!