Craig Campbell Makes 4th Of July Gig A Family Affair
Like the rest of us, country stars enjoy the 4th of July because they get the chance to spend time with their families and loved ones. But some country stars aren't able to rest on the 4th, such as Craig Campbell, who headlined a 4th of July celebration at Heinz Field in Pittsburgh in 2016.
Since the "Outskirts of Heaven" singer couldn't be home to celebrate the holiday, he brought his family along with him, including his daughter, Preslee.
But Preslee didn't just hang out behind the scenes. Instead, she stepped up front and center to sing what was perhaps the most important song of the night, the National Anthem.
Little Girl With A Great Big Voice
Despite being only six years old at the time, Preslee had the confidence to perform in front of thousands of people. All eyes were on her as she stood on the field and clutched the microphone in one hand while she placed the other over her heart. Preslee didn't seem the least bit shy as she started singing, as her voice rang through loud and clear on the first note.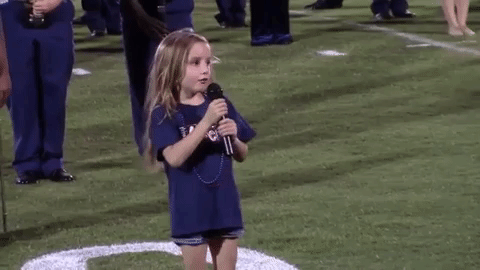 It's obvious Preslee inherited her father's gift for performing, because she sang the National Anthem like a true pro. She had no problems with holding out the long notes or hitting the high parts, and the crowd rewarded her for her performance with a warm round of applause.
It was a joy to listen to Preslee sing such an important song in our nation's history, and to hear those famous words through the perspective of a young child. Many of Campbell's fans commented similar things on the video he shared of Preslee singing, saying how precious her performance was and how nice it is to see young people expressing love for our country.
You can watch Preslee's adorable performance in the video below. She definitely made her daddy proud!