This dad was overcome with emotion when what he expected to be a mere birthday video from his son stationed overseas quickly transitioned into a heartwarming encounter that had this father in tears! Surrounded by friends and family, the proud dad of a sailor began to tear up as a video previously recorded by his son filled the screen before him, wishing him a happy 50th birthday.
"Hey, Dad. It's me, over here in good ole Bahrain," his son softly spoke, eliciting tears from viewers in the room. After apologizing for his absence and wishing his dad a very happy 50th birthday, he ordered, "Do me a favor, suck it up, princess." The audience chuckled at the lighthearted jokes, although instantly cheering as a woman told the emotional birthday boy, "Now turn around and give your son a hug."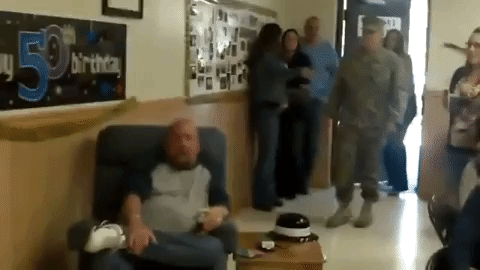 The son had secretly already arrived back in the United States and was waiting in the back of the building for the perfect time to come and surprise his dad. As he sneaked into the packed room to make his entrance, his dad continued to watch the video and then heard his daughter say "turn around."
When he did glance behind his chair he was completely overcome with emotion realizing that his son was home and able to celebrate this special day with him and his family.
In a comment on the video, Don Beaver – the dad in the video, explains what his first-hand experience was like.
"Ok just to clear a few things up," he said. "I'm the big baby that cried when my son walked in. The whole 50th party was a surprise and the last thing I expected was to see him."

"Nobody gave anything away by talking I simply didn't hear the last thing he said on the video. It was my daughter who said turn around and hug your son and even then it didn't register that it was real," he continued. "He had been stationed in Bahrain at that point for about 10 months and took leave for this party. He was a Navy MA2 (Master at Arms) (Military Police). He knew to remove his cover but was just being cautious in case I turned around too soon."
"Thank you, everyone, for the kind words and the likes!" Beaver added. "God bless our Troops! Thank you to everyone who has, is or will be serving. God bless America!"
As they enjoyed their time as a family, Toby Keith's patriotic hit "Courtesy of the Red, White and Blue" began to subtly play in the far corner of the venue, giving the encounter an extra dose of all-American power.
Be sure to enjoy this heartfelt reunion and tell us what you thought!