It seems whenever model-turned-actress Cara Delevingne stops by The Tonight Show starring Jimmy Fallon, she's always showing off one of her many talents.
In July 2015, Cara put her beatboxing skills on display.
Over three years passed since she appeared on the show, but on September 4, she was back as a guest to promote her Amazon series Carnival Row. Once again, Fallon brought up on of her hidden talents.
"I found out there's another hidden talent that you have," Fallon said. "Which is that you can play the guitar behind your back."
She quickly corrected him, "Behind my head!"
Cara explained that she likes to figure out how to play musical instruments in a way other people don't because she likes to do things unconventionally.
Out of nowhere, Jimmy pulled out an electric guitar from behind his desk for Cara to play!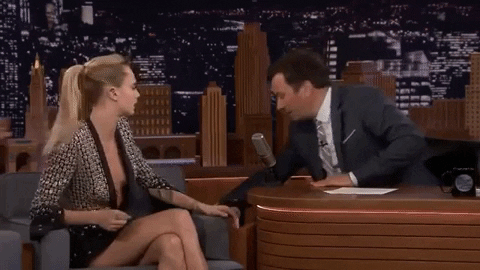 Cara then warmed up a little, then dove into the opening guitar riff from Lynyrd Skynyrd's iconic song "Sweet Home Alabama."
Watch her impressive skill on display below.