One little girl was given an incredible surprise when her father, on deployment, surprised his daughter after her adorable dance for her school's talent show.
The 7-year-old and her friends decided to dedicate their emotional performance to the girl's father, walking onto their dimly lit stage with a sign that read, "Thank you to all our veterans and those who serve."
Sporting a high ponytail and fluffy tutu, the little girl spoke, "My dad has been in the Army for 9 months," while her friends added, "We're dedicating this [dance] to Mr. Luke." 
With that, the girls broke into a beautiful choreographed dance to The Script's heroic tune "Hall Of Fame."
The audience was silent as they watched the energetic girls showcase a series of kicks, jumps, and splits. As their performance came to its finale, the girls hugged and hurried off stage amidst their thunderous applause. However, a surprise was waiting for them just behind the curtain.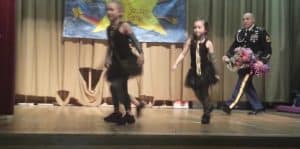 The young girl's father, expected to be on deployment, had flown in to surprise his little girl and her friends, holding a bouquet for each of the promising dancers. The girls ran and hugged the soldier, prompting the audience to burst into tears and appreciate the wonderful reunion that this little dancer had been longing for.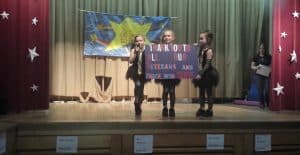 According to the upload, the daughter had suffered a traumatic foot injury that took a portion of the foot, leading doctors to believe she would never dance again. It seems this girl gets her strength from her father as she defied the predictions and blew away her school with an incredible dance routine!
Watch the full dance and surprise below and let us know what you think in the comments!