Looking Back A Few Voice Seasons Ago
The Voice had a few surprises in store when it aired its first live show of Season 12.
For starters, the coaches each got the chance to invite one "comeback artist" on the show to give them another chance to win. Viewers were excited to see the coaches bring back some of their favorite contestants that had been eliminated earlier in the season.
Another big surprise came in the form of Adam Levine's hair, which looked drastically different than it did during the pre-taped blind auditions, battles, and knockouts.
Instead of sporting his typical black do, Levine's hair was a light blond. In fact, it was even lighter than Gwen Stefani's hair!
? Gwen, Blake and Adam photographed on set for The Voice, Season 12 [x4] https://t.co/6eq3dLsHRK pic.twitter.com/AWzBHuqn6b

— Nicole (@gwenblakeinfo) May 5, 2018
Of Course Blake Had Something To Say…
Anyone who has followed The Voice for a while knows that Levine likes to change up his hair. He's gone blond before, and has also dyed his hair pink. There was another time that he got rid of his hair altogether and pulled of a clean-shaven look.
No matter what Levine does with his hair, Blake Shelton always has something to say about it. So you can bet when Levine showed up to The Voice with his blond hair, Shelton wasn't going to let him live it down. As expected, he didn't.
While host Carson Daly introduced the coaches, Shelton could be seen sporting a bright blond wig that matched Levine's new hair color. "What, what is that on your head?" Levine asked. "Exactly," Shelton said, proving the point he was trying to make.
Imitation is the sincerest form of flattery. ? #VoicePlayoffs pic.twitter.com/aSM9wdZABA

— The Voice (@NBCTheVoice) April 19, 2017
Since Shelton made a big fuss about Levine's hair, a reporter from Access Hollywood just had to ask him about it on the red carpet after the show.
Alicia Calls Him Out
"I don't think Adam realizes, he's already on television so he doesn't have to do things like that to get people's attention," Shelton said. "You know he could just be on TV. You're already Adam Levine."
Shelton's fellow coach Alicia Keys was standing next to him during the interview and felt like she needed to throw in her two cents. She shut Shelton down fast, exposing the fact that he's probably jealous of Levine but is trying to play cool.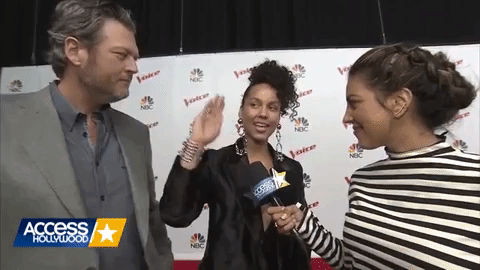 "You're just jealous," she teased. "Why don't you do your hair like that?"
Shelton made it clear that he would never do such a thing. However, he did admit that he has a few reasons to be envious of his good friend. "I may be jealous of Adam for a lot of things, but that catastrophe on top of his head is not one of them," he said.
Go ahead and tune in below to catch the rest of Shelton and Keys' interview.
Based on this, it seems we won't see Shelton sporting a blond hairdo anytime soon!