On June 14, 2017, Aaron Lewis surprised his fans when he debuted a new song titled "Folded Flag." The song is already a memorable part of Lewis' country career, as fans have taken to the story it shares.
Now that "Folded Flag" has been heard by country fans far and wide, we thought we'd fill you in on a few facts about the song.
Here's a list of five things that all of Lewis' fans should know about "Folded Flag." Knowing about these fact will make the song all the more meaningful to listen to.
1. The Background
Lewis was touring throughout 2017, but one particular show is sure to stick out in his mind for some time. That show took place early in the year, and became memorable for something that happened between one of Lewis' bandmates and a few soldiers.
At the show, Lewis' guitarist Luc Nyhus happened to spot three soldiers in the crowd. Something inspired Nyhus to approach them, and he did just that. He asked them if they would like to listen to a song that he wrote, and they said yes.
The song that Nyhus played for them was "Folded Flag."
2. The Songwriters
Nyhus co-wrote "Folded Flag" along with Marty Morgan and Jasmine Van Wilt. The trio packed each lyric full of meaning, as they tell the sad story about a fallen soldier and the mourning period that follows his death.
While it hasn't been revealed if any of the songwriters have a personal connection to the song, we're sure that one of them does. The emotions are just that deep. 
3. The Story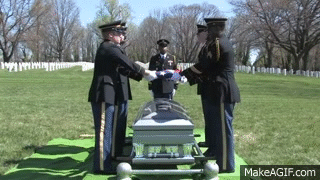 As mentioned before, "Folded Flag" honors a fallen soldier and focuses on the symbolism in the folded flag given to his wife. But the story it tells is just a bit more complex than that.
The song reveals that the soldier was a young man who decided to serve in the military. He eventually marries the woman he loves, but he has to leave her and his family behind when he goes off to serve. So when he dies, his wife and child are left to go on through life without him.
The heartbreaking nature of the song comes through most as the soldier reflects on the folded flag that is given to his wife at his funeral:
"As two men with starch white gloves. Fold the colors as they touch. It's probably more than I deserve. But I'm proud to get this much. I'm sending all the love I ever have, inside this folded flag."
4. What Lewis Had To Say About It
After he debuted "Folded Flag," Lewis released a statement through his record label, Big Machine Label Group, to talk about how much the song means to him. The statement can also be found in handwritten form on the above artwork released in connection with the single.
Anyone who has been a fan of Lewis' for a while knows that he is a loyal patriot, so you know that he meant every word he said in his statement.
This is what Lewis had to say about "Folded Flag":
"In today's world, the ultimate sacrifice that our servicemen and women give selflessly in protection of the American Dream is often overlooked. The first time I heard this song, I watched three battle-hardened special forces soldiers cry after hearing it. I knew it hit home and I knew it deserved to be heard."
5. Where You Can Hear It
Lewis has been including "Folded Flag" in his concert sets, so there is some live footage out there of him performing it. Since there's no official music video at this time, enjoy Lewis' live performance of the song in the video below.
Other than that, you can also listen to the recorded version "Folded Flag" by downloading a copy of it here. We couldn't think of a better song or a better artist to honor our fallen heroes than "Folded Flag" and Lewis.