The Voice fans were shocked in May 2019 when it was revealed that coach Adam Levine wasn't coming back for the 17th season – even though an announcement had been made that he was.
Coaches @kelly_clarkson, @johnlegend, @adamlevine and @blakeshelton will be returning to @NBCTheVoice for 17th season https://t.co/6Ehfu6PctV pic.twitter.com/zCxIoQIqCF

— billboard (@billboard) May 10, 2019
In the same announcement, made by Carson Daly on The TODAY Show, Gwen Stefani was named as Levine's last minute replacement.
As the season is gearing up to start on September 25, the coaches are doing some press to promote it. Blake Shelton stopped by Access and spoke with Kit Hoover and guest host Mario Lopez to talk about Season 17, and Adam's absence.
As most of y'all know, Blake and Adam were the only coaches who appeared on every season since the very beginning, so they had an undeniable bond that was very present on camera.
Despite being reunited with his girlfriend Gwen on The Voice again, Blake does really miss his friend being there.
"I mean, look, it sucks not having Adam on the show," he said.
In true Blake Shelton fashion, he had to make his sentimental comment into a joke, adding, "I mean, he's been there since the beginning, so it's hard not to have someone that stupid to make fun of! Everybody here now, they're more talented, and he's not here to kick around."

Although he isn't seeing Adam on set, Blake did reveal that they still talk as much as they used to!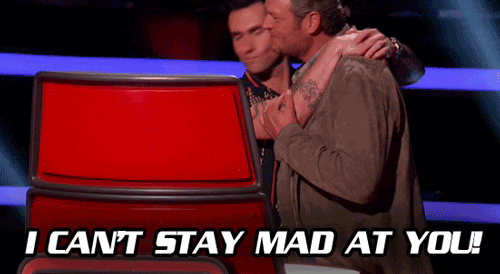 "We talk. We never have lost contact," he said. "Literally last week, I don't know what was going on. I know what I was doing – I had been drinking for a few hours, and I don't know what he was doing, but I was at home in Oklahoma, by myself, and we ended up FaceTiming each other for 45 minutes, just nonsense talk."
As for the stuff they were talking about? He says it's not safe for TV! He also said that "maybe someday, who knows, [Adam] might end up coming back," though he doubts it.
Watch his full interview with Access below.