Chris Janson Visits Romantic Classic For Special DWTS Night
For week seven of the competition, Dancing with the Stars challenged its celebrity contestants to perform routines set to the tune of country music. A number of today's hottest stars turned out to sing for the different couples' dances, including Carly Pearce, Lauren Alaina, and Chris Janson.
While most artists performed their own songs, Janson was given the honor of performing a country classic…"Can't Help Falling In Love."
Elvis Presley was the first to record the romantic song, which appeared in his 1961 film Blue Hawaii. While many artists from varying genres have recorded it since, Presley's version is the most well-known.
Such a romantic song required an equally romantic dance to match, which is why country music radio host Bobby Bones and his partner Sharna Burgess complemented it with a waltz. As you would except, Country Night was something that Bones was looking forward to.
You'll Be Enchanted By Their Dance
Prior to their performance, Bones took to Instagram to share a loving photo of himself and Burgess. In the caption he wrote, "Going to try to dance our hearts out tonight."
Once you watch the duo's performance, you'll see that's exactly what they did.
Bones' love for country music transferred to his tender routine, which he clearly poured his heart into. As you watch him and Burgess glide across the ballroom floor, you'll find yourself enchanted by their every move.
Plus, you can't ignore the beaming smile on Bones' face.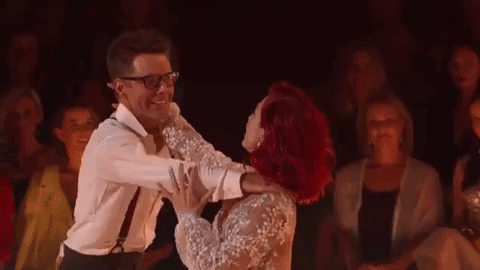 Bobby Earns His Best Score Yet
The judges also recognized Bones' dedication to the dance, and rewarded him with his highest score of the season up to that point. He earned eights across the board, bringing his score to a total of 24. 
That high score was important, since the Dancing couples were facing a double elimination later that evening. So did Bones' fairytale waltz help save him from that dreaded fate?
It did!
Bones and Burgess' Country Night waltz kept them around to dance again. What's even better is that it helped them advance all the way into the semifinals! 
Now you can see the routine that placed them there by tuning in to the video below.
It's amazing to see how much Bones has learned as a dancer since he first started on the show. This dance proves just how much talent he has!