Season 13's Blind Auditions are coming to an end on The Voice. Each coach's team is complete when there are 12 members on the team, and after Monday night's (March 18) episode, Adam Levine, Blake Shelton, Kelly Clarkson, and John Legend filled theirs.
Shelton and Legend were the first two to have 12 members, both celebrating on Twitter during Monday night's broadcast.
Well, I'll be damned… my team is FULL!!!! Now that's country right there, people! #VoiceBlinds

— Blake Shelton (@blakeshelton) March 19, 2019
My first team on @NBCTheVoice, everyone, and I have to say… I clearly have the best one. Excited to work with everyone, let's make some magic. #VoiceBlinds

— John Legend (@johnlegend) March 19, 2019
Although they seem to go after different types of singers, Levine and Clarkson were left battling each other for their last spot when 25-year-old Andrew Jannakos stepped on the Voice stage.
With a deep, gritty voice, Jannakos sang Luke Combs' hit single "Beautiful Crazy" that impressed both Levine and Clarkson enough to press their buttons for him. The contestant's voice was very reminiscent of Combs' signature sound.
Levine turned around first, followed by Clarkson, who was visibly shocked to see a voice like that come out of a young man with ripped jeans, perfectly coifed hair, and glasses.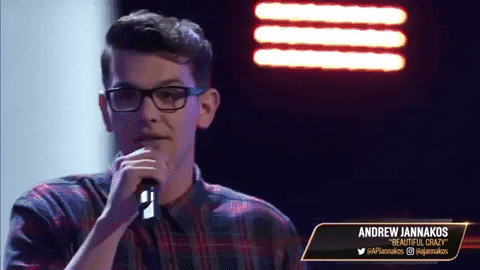 How Jannakos Ended Up On 'The Voice'
According his his bio on The Voice's website, Jannakos had big dreams of moving to Nashville years ago, but two weeks before his planned move, both his father and grandfather were diagnosed with cancer. Instead of chasing his dreams, he stayed in his hometown of Flowery Branch, Georgia to be there for his family.
He decided to audition for The Voice this year to follow his dreams, and make his family – as well as his girlfriend and her young son – proud.
By the looks of his audition, they certainly are!
Which Coach Did He Pick?
After lots of back and forth between Levine and Clarkson, and some interjections from Shelton, it was time for Jannakos to choose his coach. Would he be the male country singer Clarkson had been searching for all season, or would he be the lone country singer of Team Adam, giving him a leg-up since he wouldn't be battling other country singers?
And he chose….Adam!
Watch his full audition below, and prepare yourself for his incredible vocals!