Darius Rucker, Rockstar Of The Past
Long before he branched off into country music, Darius Rucker was the frontman of rock band Hootie & the Blowfish. Known for songs such as "Hold My Hand," "Let Her Cry," and "Time," the group has sold millions of records worldwide.
Although Hootie & the Blowfish was on hiatus for a while, the members occasionally reunited for a performance here and there.
Rucker also keeps some Hootie songs in his wheelhouse, and famously performed "Hold My Hand" with an ensemble of country stars to open the 2017 CMA Awards.
Recently, Rucker revisited another one of his old band's famous hits when he stopped by for a visit on The Tonight Show. But rather than sing the song as it has always been, he chose to rewrite it, and for a good reason.
Old Hootie Hit Gets Revised For Tonight Show Tribute
Leading up to Memorial Day in 2018, The Tonight Show decided to host a whole week of shows with an all-military audience. Wanting to honor our military men and women, show host Jimmy Fallon joined Rucker to perform a rewritten Hootie & the Blowfish song in tribute to them.
The song that Fallon and Rucker revised was Hootie & the Blowfish's 1995 hit "Only Wanna Be with You."
Rucker served as one of the cowriters on the original track, which was also crafted by Mark Bryan, Bob Dylan, Dean Felber, and Jim Sonefeld.
Overall, "Only Wanna Be with You" is Hootie & the Blowfish's highest-charting song on the Billboard rock chart, having reached the second position. It is also the group's highest-charting song on the all genre Hot 100, having reached the sixth spot.
Fallon & Rucker Throw A Little Humor Into It
Needless to say, "Only Wanna Be With You" is a song that many people know, and know well. So Fallon and Rucker felt it served as the perfect backbone to their military week performance, which they titled "Only Wanna Thank the Troops."
Rucker's appearance was kept a complete surprise, so the studio audience was beyond thrilled to see him stroll out on stage to join Fallon.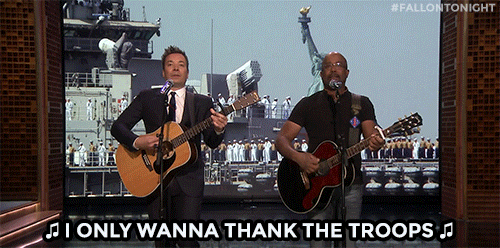 Of course, it wouldn't be The Tonight Show without a few jokes, and Fallon and Rucker snuck a few into their song. For example, Fallon offered some credit to the troops for staying so fit, singing, "You serve with six-pack abs, I can barely run a mile."
But even though there was a little humor in the song, the fella's main sentiment was a serious one. As they repeated over and over, "Well we owe it all to you. I only wanna thank the troops."
You can tune in below to watch Rucker and Fallon's tribute to the troops. It may make you laugh, it may make you cry, but no matter what, you're sure to enjoy it.