20-year-old Samantha, who goes by her stage name Just Sam, has already experienced her fair shares of struggles and heartache in her two decades on this Earth. Abandoned by her mother at a young age, Just Sam and her sister were adopted by her grandmother and grew up in the projects of Harlem, New York.
Just Sam works a busker on the subway, singing for anyone who will stop and listen. She earns enough money from singing to be able to support herself and her grandmother.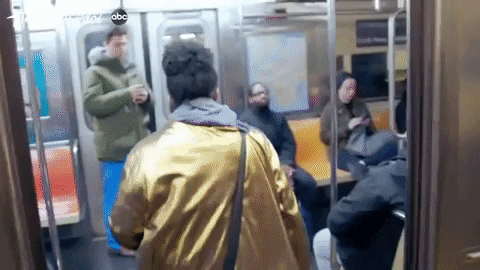 At her grandmother's encouragement, Just Sam took a risk and decided to follow her dreams by auditioning for American Idol. Her audition was shared early, just a few days before the show's 18th season was set to debut.
The judges asked Just Sam to share her history, and you could tell how touched they were by her story. Those feelings of compassion only deepened as Just Sam tried to sing her first song, "You Say" by Lauren Daigle.
Just Sam, who couldn't believe she was actually auditioning for Idol in front of Lionel Richie, Katy Perry, and Luke Bryan, started getting choked up as she sang. She tried to restart and continue the song, but couldn't control her emotions, and began crying.
The judges jumped up to comfort her, with Richie being the first to wrap her up in a hug. 
After receiving some words of encouragement from the judges, Just Sam found the strength to sing her second song, "Rise Up" by Andra Day. Her performance impressed the judges, who were obviously moved by what they heard:
"A lot of people come in here, and they haven't lived the struggles you have," Bryan said. "You have those qualities in your voice to tell stories. And, you can sing really beautifully too."
When it came time for Richie to speak, he asked Just Sam if she had ever felt safe in her life. She started getting emotional, saying she felt safe when her grandma hugged her.
Richie rushed to her yet again and wrapped her up in an embrace, saying, "I want you to feel safe."
He then went on to add, "I want you to rely on us to coach you through this. And forget about winning, you've already won."
We're not crying…you're cryinghttps://t.co/MRBdaey2Es

— American Idol (@AmericanIdol) February 13, 2020
After that, Just Sam turned to the judges and asked "Can I pray with you guys, is that ok?" Of course, they said yes, and the judges joined her in a short prayer before giving her a golden ticket to Hollywood.
You can watch Just Sam's emotional story and audition in the clip below. We have a feeling this girl is going to go far!