Looks like just about everyone, including animals, are getting a little stir-crazy being stuck in the house during the quarantine.
This adorable dog named Blue really doesn't want to go home after his daily walks! He hates his walks ending so much that he throws a full-on tantrum and refuses to get up!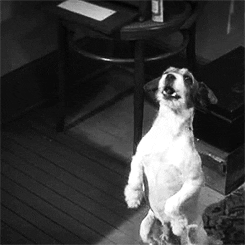 Blue's owner Cady decided to start filming his antics as he protested, realizing his walk was almost finished.
Cady compiled several videos of Blue lying on the ground, refusing to move. She even tried to encourage him to get up and go home by saying, "Come on Blue! You can do it!"
However, Blue continued to demonstrate his rights as a dog and absolutely refused to budge. When Cady zoomed in on his face, you can see the determination in his eyes.
In a couple of the clips, Cady can be seen bribing Blue with dog treats to get up and keep on moving. The treats seemed to help enough to at least get Blue up off the ground and moving again.
Cady shared that she noticed Blue's temper tantrums since he was a puppy. However, since they have been stuck at home due to the lockdown, the tantrums have become much more frequent and dramatic.
Blue, who was born blind, used to regularly attend a doggie daycare while his mom was at work. Now that the lockdown is in place, he's stuck at home like the rest of us. He definitely seems to miss his doggie friends! We know the feeling, Blue!
Watch Blue and his adorable personality below!