Loretta Blazed Trail For All To Follow
In a time when few female artists were being played on country radio, Loretta Lynn was one of the genre's shining stars. Her songs continued to climb up the charts, proving that a woman could thrive in what had always been a male-dominated genre.
Lynn blazed a trail for future stars to follow in her footsteps. One of those stars was Reba McEntire, who has also been credited as one of the main pioneers for female artists in country music.
Both artists' careers have been marked with hit songs and endless awards.
A National Honor For A National Treasure
In 2003, Lynn's talent was recognized on a nationwide level when she was named as one of the individuals to be recognized at the Kennedy Center Honors.
As Kennedy Center Chariman David M. Rubsenstein stated in relation to the 2016 ceremony, "The Kennedy Center Honors celebrates the spectacular talents of artists whose brilliance has left a lasting impact on our society."
Each ceremony features performances from musical guests, all of which are kept secret to both the viewers and the honorees. As a result, everyone is surprised by who walks out on stage to honor them.
Reba with Garth Brooks, Patty Loveless, Trisha Yearwood, George Bush, Sissy Spacek and Lyle Lovett in 2003 at the Kennedy Center Honors where one of the honorees was Loretta Lynn. #ThrowbackThursday pic.twitter.com/jRKKvCLVfl

— Reba News (@RebaNews) December 21, 2017
You're Lookin' At Reba…
When Lynn was honored in 2003, she was delighted to see McEntire stroll out on stage and start singing her famous hit "You're Lookin' At Country."
Written by Lynn, "You're Lookin' at Country" was released in 1971 and quickly became one of her biggest hits. It reached the fifth spot on the Hot Country Singles chart in the U.S. and was a number one hit in Canada.
McEntire's performance of the song stayed true to the way that Lynn first sang it all those years ago. She also made a point to personalize the song a bit, at one point singing, "If you're lookin' at Loretta, you're lookin' at country."
Lynn seemed to thoroughly enjoy every second of the performance, and was smiling the entire time McEntire sang.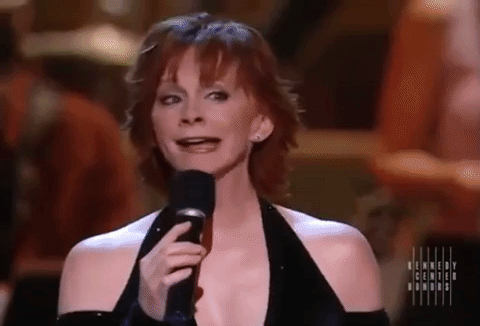 At the end of the song, McEntire blew a kiss to Lynn and proclaimed "I love you darlin'," and Lynn mouthed "I love you too" in response.
Since Lynn loved McEntire's performance of "You're Lookin' at Country," we're sure you will as well! Check it out in the clip below.
We think McEntire was the perfect person to sing this song in to Lynn!