A small private plane carrying Dale Earnhardt Jr. his wife Amy, and their baby daughter Isla Rose crashed on Thursday, August 15th, 2019 in Elizabethton, Tennessee just after 3:40 pm local time.
According to local news reports and the Carter County Sherrif's office, the Cessna Citation plane had landed at the Elizabethton Municipal Airport this afternoon and was confirmed to be carrying Dale Jr., Amy, and Isla along with his two longtime pilots.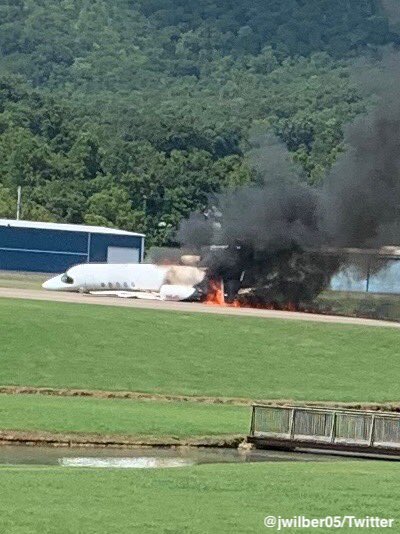 After attempting a landing, the plane skidded off the runway, crashed through a fence and caught fire that has been documented by a series of photos and videos that are truly horrifying.

Dale Jr., Amy, Isla their dog, Gus, and the two pilots were all okay with only Dale Jr. needing to be taken to the hospital. He was later released from the hospital that evening.
In a rare and shocking video clip, a bystander captured the exact moment when Dale Earnhardt Jr. and his family burst through the door of the plane and ran away from the fiery wreckage of their jet.
Somewhat blurry, you can make out the dog, Amy and Dale as they free themselves from what could have been a fatal plane crash.
Watch the full video below.