Investigators from the NTSB and FAA have been on-site to examine the crash of Dale Jr.'s private plane on Thursday, August 15th, 2019 in Elizabethton, Tennessee.
The small municipal airport sits just outside of Bristol – where Dale Earnhardt Jr. was headed for his job as a news broadcaster for NBC Sports. He was scheduled to be working during this weekend's race.
But, around 3 p.m. local time, tragedy struck – and the Cessna Citation that was carrying Dale Jr., his wife Amy, their baby girl Isla, dog Gus, and his two pilots crashed and burst into flames.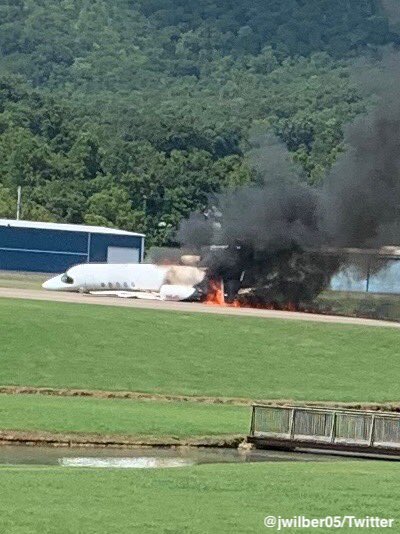 Miraculously, all aboard the plane were able to escape with nothing more than cuts and bruises. But the cause of the plane crash is still under investigation.
One NTSB investigator, Ralph Hicks, explained that the teams are looking at two possible causes of the crash – a crash in which the airplane attempted a landing and went careening off the runway, breaking through a fence and ending up on a public highway.

"The airplane basically bounced at least twice before coming down hard on the right main landing gear," Hicks told ABC 7 / WSOC-TV. "You can actually see the right main landing gear collapsing on the video. The airplane continued down the runway, off to the end, through a fence and came to a stop behind me here on Highway 91."
Oh God! Terrifying video shows #DaleEarnhardtJr and his family running out of their plane after it crashed pic.twitter.com/7ojIr0o3JR

— Taste of Country (@TasteOfCountry) August 16, 2019
CBS Evening News reports that the two suspected causes are either pilot error – where the pilot either came down far too hard or completely overshot the runway. The second suspected cause is that the landing gear failed on the right side and caused the pilots to lose control of the plane.
We are so thankful that Dale Jr. and his family are all okay along with the pilots and their dog.
Watch the full CBS Evening News report below.