Minutes before  21-year-old singer-songwriter Joseph Allen took to the stage to audition for America's Got Talent, the crowd and the judges knew there was something special about him. In fact, he got a standing ovation before he even started performing, something that Simon Cowell later described as "astonishing."
But Allen's first impression wasn't the only "astonishing" part about his time on the AGT stage. The young performer sang an original song for the occasion, and it left many audience members and judges in tears by the time he was through.
Words can't explain 😭 pic.twitter.com/aet3JJDGtv

— Joseph Allen (@ItsJosephAllen) June 5, 2019
A self-professed "dreamer," Allen's song was all about chasing your dreams. The inspiring tune also featured a rap tailored to his AGT experience, in which he referred to Cowell as a "teddy bear."
But the most emotional line comes in the chorus, when he proclaims that "after today, the world's gonna know my name." The line even got to Allen himself by the end of the song.
The weight of the moment got too real for him then, and his voice broke on the last few words. He collapsed to the ground in a fit of emotion, but had no idea that the most emotional moment was still to come.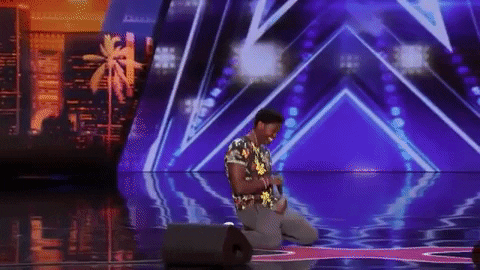 After the teary-eyed judges complimented Allen's performance, judge Howie Mandel took his praise one step further. Referencing how Allen had previously said he wanted to leave a footprint on the world, Mandel stood up on the judges' table and stomped his foot down on the coveted Golden Buzzer, sending the crowd into hysteria.
Only a few Golden Buzzers are given out during the AGT auditions, and the buzzer guarantees advancement to a later stage of the competition. So the judges make sure to save their Golden Buzzer picks for the best of the best, like Allen.
You can check out Allen's inspiring performance and his reaction to becoming Mandel's Golden Buzzer pick by tuning in to the video below. The world certainly knows his name after this!