When 50-year-old Todd Michael Hall took to the Voice stage to audition for Season 18, the coaches had no idea what they were in store for. 
Hall chose Foreigner's 1982 single "Juke Box Hero" as his blind audition song. The band took the song to the 26th spot on the all-genre Billboard Hot 100 chart, and it was also a #3 hit on the Mainstream Rock chart.
"Juke Box Hero" is rock and roll to the core, so Hall either had to fully capture that style, or transform the song into something entirely new. He opted for the former approach, and completely embraced the song's rock vibe.
The Voice coaches were immediately blown away by the Michigan native's performance. Later, new coach Nick Jonas cited Hall's sky-high range as the most impressive aspect of his audition. As he said, he would just start to think that Hall's voice had reached its limit, then he'd prove him wrong.
Despite his praise, Jonas was one of two coaches that did not turn for Hall. He and Kelly Clarkson remained facing the audience, while John Legend and Blake Shelton were the ones who turned their chairs.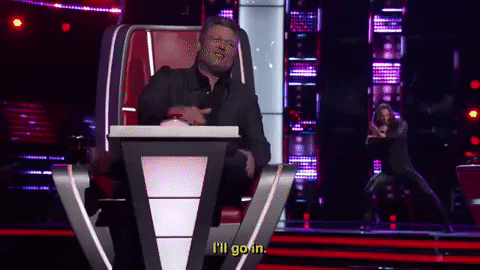 Surprisingly, it was Shelton who made the most enthusiastic argument to get Hall to join his team. He expressed how passionate he is about rock music, saying the first two records he ever bought were rock, not country:
"That takes me back to the hair bands man, that's what I love," Shelton said about Hall's performance. He also thinks Hall could go all the way, telling him, "That [voice] is a direct path to the finale dude."
Because of his love of rock and roll, Shelton expressed his desire to keep Hall in his "lane" and nurture him as one of the few true rock stars The Voice has ever seen:
"I love the music and the era that you represent. You like to rock, I like to party, let's put this thing together. Let's do it! Come on!" Shelton said in his final plea.
His words struck a chord with Hall, who ended up picking him as his coach. You can watch that moment along with Hall's audition in the clip below.
This fella knows how to rock! No wonder why Shelton was so desperate to have him on his team.