Today is a sad day in the world after one of NASCAR's most-loved drivers has lost his mother at just 65 years old…
Dale Earnhardt Jr., who was voted NACAR's most popular driver 14-times in a row, lost his mother, Brenda Jackson, just one day after Easter Day on April 22nd, 2019. Dale Jr. previously lost his father 18 years ago in a crash during a NASCAR race.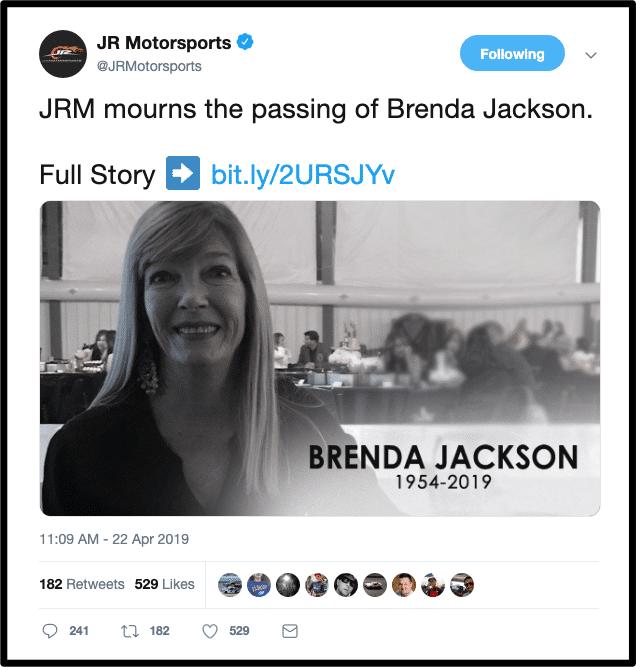 Jackson is the mother to both Dale Jr. and his sister Kelley Earnhardt-Miller. She married to world-famous racer Dale Earnhardt Sr. in 1972 and shortly after welcomed both her beloved children into the world. She is also the daughter of stock car builder Robert Gee who crafted rides for multiple drivers in the 60s and 70s.
In the late 1980s, Jackson re-married and moved back to North Carolina – which was much closer to her children and her grandbabies. Kelley has three children one of which, Karsyn Elledge, is an aspiring racer like her uncle and grandpa! Dale Jr. and wife Amy, welcomed their first child, Isla, into the world in May 2018.
Jackson, along with her daughter Kelley both worked as an integral part of Dale Jr.'s Xfinity racing team, JR Motorsports. She can be seen in a lot of their fun videos posted online and even took time to sit in on both of her kids' popular podcasts.
Jackson's tragic passing was announced by JR Motorsports on their official website earlier today (April 22nd) and they included a beautiful statement about what a joy she was to have as part of the JRM team – and how deeply she will be missed.
According to the statement, she passed away after a battle with cancer.
"Known for her wit, charisma and unparalleled ability to cut to the heart of any matter, Jackson became an instant favorite to her friends and colleagues at JR Motorsports when she joined the company as an accounting specialist in 2004. Her sarcastic musings and straightforward approach injected a brand of humor at JR Motorsports that became part of its fabric as it grew into a full-time NASCAR racing operation in 2006 and a championship-winning organization in 2014."
Our thoughts and prayers are with Dale Jr., Kelley, and all her grandchildren and loved ones during this very difficult time.
Watch a special Mother's Day moment between Dale Jr. and his mom in the video below.