Those competing on Dancing with the Stars embraced a little Disney magic on Monday night (October 14) because it was "Disney Night!" That meant that all dancers performed routines to famous Disney songs, and also dressed as iconic Disney characters.
Country singer Lauren Alaina went "Under the Sea" for her Disney Night performance, and danced the Samba dressed as Ariel from The Little Mermaid.
The stage was transformed into an underwater paradise, with neon-colored jellyfish hanging from the ceiling. There was also a grotto-like backdrop behind the stage, which resembled the grotto where Ariel hid all of her treasures from the human world.
"Under the Sea" was the perfect, upbeat song for the samba, which is a Brazilian dance with origins in Africa. The dance involves a lot of quick movements, one being the signature "samba roll," which is not easy to execute.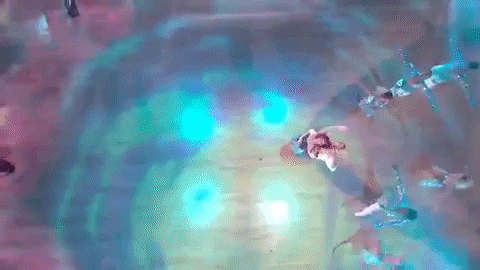 Alaina was rewarded handsomely for her routine, and was given a score of 23 from the judges. That makes it one of her highest-scoring dances on the show!
Viewers loved the routine as well, and praised it on social media. One Twitter user called her dance "terrific" while another said he thought she makes "a great Little Mermaid."
And yes, @Lauren_Alaina absolutely DOES make a great Little Mermaid!!!!!!!!!!!#DWTS

— Nick Gazerro (@leafsnation_91) October 15, 2019
Next up, Lauren Alaina dances the Samba from "Under The Sea" from "The Little Mermaid." I thought she was terrific. The judges gave her a score of 23/30. #DancingWiththeStars #DisneyNight

— Loren R. Javier (@lojav) October 15, 2019
One person also drew a comparison between Alaina's routine and one performed by reigning champion Bobby Bones. He also danced to a Little Mermaid-themed routine during his time on DWTS.
The Twitter user said maybe this is a good sign that Alaina will go on to win her season of the show.
So @mrBobbyBones was the winner of @DancingABC last season and he danced to the Little Mermaid on Disney Night.

Is this movie going to be good luck for @Lauren_Alaina and @Gleb_Savchenko? You better SHELLlieve it! ??‍♀️?

Let's get this mermaid legs and a mirrorball! ?#DWTS pic.twitter.com/mj8o9BrOK7

— annmarie moore (@annmarie_moore) October 15, 2019
Now you can watch Alaina dance to "Under the Sea" by tuning in to the video below. It was such a spectacular routine!