Miranda Channels Signature Sass Into Song
Miranda Lambert has become well-known over the years for her fun-loving and sassy tunes. Her song "We Should Be Friends," falls right into that category.
Although the song has only been out since December 2016, it is now a fan-favorite.
"We Should Be Friends" was written entirely by Miranda and was released as the second single off of her chart-topping double album, The Weight of These Wings.
One of the more lighthearted pieces on the album, "We Should Be Friends" has quirky lyrics and a catchy beat that make it a ton of fun to listen to.
Miranda's music video for the tune is equally entertaining. The video shows Miranda hanging out in a beauty salon with a whole bunch of people, including some of her real-life friends.
By the end of the video, Miranda trades her messy updo and casual clothes for flowing waves and a rockin' lace ensemble.
There's one country cutie out there who has clearly listened to "We Should Be Friends" a time or two. Her name is Eva, and she has to be one of the most adorable singers we've ever seen!
Little Girl Makes The Cutest Miranda Lambert Cover Ever
While we aren't sure exactly how old Eva is, we'd guess that she's no older than five. Despite her young age, Eva can sing like a pro! She proved it in a video that her father uploaded to YouTube of her singing "We Should Be Friends."
Wearing a Nashville Predators shirt, Eva watched Miranda's video for "We Should Be Friends" as she stood in the living room and sang along.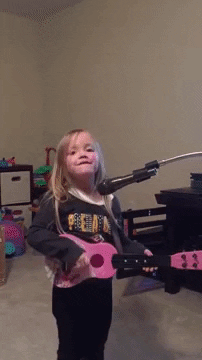 She also had a tiny pink Disney princess guitar, and started jamming out on that during the song's instrumental breaks.
Eva sang "We Should Be Friends" like only a little girl her age could. For example, instead of singing, "if your mind's as cluttered as your kitchen sink," she sang, "if your mind's as buttered as your kitchen sink." You'll be crackin' up at that little change in the lyrics! But to be honest, we're sure you'll be laughing and smiling throughout the entire video.
Tune in below to watch this sweet country girl sing "We Should Be Friends" without a care in the world. We hope this video reaches Miranda, because we're sure she'd love it!