New "Mean Tweets" Debut After 2018 CMA Awards
As has become a CMA Awards tradition, Jimmy Kimmel debuted a brand-new segment of his popular "Mean Tweets" series following the 2018 ceremony. Only rather than featuring a whole host of celebrities, this bit focused solely on country singers.
The latest edition of country "Mean Tweets" is the fourth, with the first installment taking place in 2015.
The premise of "Mean Tweets" is this. Celebrities sit down and read some of the cruelest things people have tweeted about them. These comments range from being quite comical to downright harsh, and the celebrities' reactions are always priceless.
In fact, sometimes the celebrities handle the tweets better than we do as viewers! They know how to have a laugh at their own expense!
Someone Thinks Kacey Musgraves Needs To Dress Differently
The fourth edition of country "Mean Tweets" may include some of the cruelest tweets yet, but all of the artists took it in stride. Many of the artists featured were 2018 CMA Award nominees and winners, so they weren't going to let a little Twitter hate get under their skin!
Speaking of skin, a large number of the tweets focused on what certain artists wear, or rather, the lack of what they wear. The "Mean Tweet" aimed Kacey Musgraves pointed out an outfit of hers that was apparently too revealing to be "country."
Looking down at the midriff-baring top she was wearing at that moment, Musgraves shrugged and admitted her current outfit also wasn't "country" in any sense.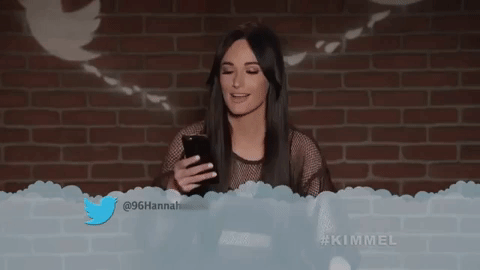 Wait, Luke Combs Looks Like What Now?
Instead of focusing on his attire, one Twitter troll chose to comment on Luke Combs' overall appearance. And the disgruntled person did so by drawing comparisons to Combs and a favorite country food…cornbread.
Yes, you read correctly. Someone on Twitter thinks that Combs "looks like the human manifestation of cornbread."
Combs actually got a good laugh out of that, and we can't blame him, because that's hilarious!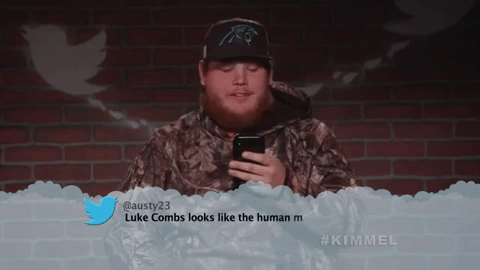 Someone Really Doesn't Like Scotty McCreery…
One of the most brutal comments was aimed at Scotty McCreery. Like many of the previous "Mean Tweets," this one was also directed at the American Idol champ's appearance.
The tweet from a person with an inappropriate user name mentioned how grateful they are that McCreery grew out of being "a creepy kid" and is now "a creepy looking adult." Ouch!
Of course McCreery didn't let the hater's comment get to him, and laughed it off.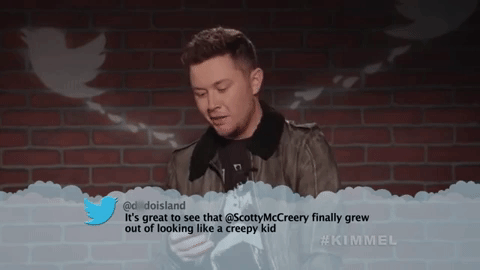 If of that wasn't enough for y'all, check out the remainder of the new country "Mean Tweets" in the clip below. Some of them are so harsh, you may find yourself gasping in horror!