For years now, the incredible vocal band Home Free has been covering our favorite country songs and putting an a cappella twist to them. They have several videos with over millions of views and each project they do is more and more incredible.
Covering Rascal Flatts' number one single, "I Like The Sound Of That," Home Free impeccably simulated the sound of their drums, guitar, and bass, while delivering awesome harmonies and lead vocals.
In the music video, the five guys that make up Home Free are all teachers at a high school. Singing the song in the gym, the video cuts to a geeky looking teacher who rides up on a moped, dropping papers left and right, and eventually runs into, literally, the school librarian.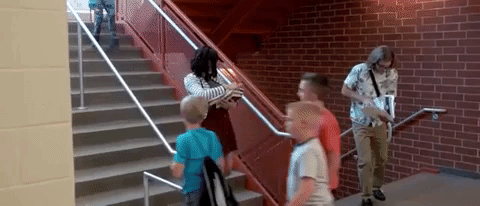 After exchanging a few flirty looks, the two go their separate ways, but throughout the video, the teacher and the librarian bump into each other a few more times before he gets the courage to ask her out for dinner.
As well as this cute love story, we see each of the five men take their yearbook photo, and find out which quote they chose to accompany their picture. Our favorite quote is beatboxer Adam Rupp's, which read, "Tbsh ttk pf t t t t b t pf tbs_tbsh."
Besides an awesome backstory, Home Free's seamless harmonies keep us thoroughly entertained the entire video! Watch their music video for "I Like The Sound Of That" below!