On April 15, country singer Kane Brown shocked his fans with an announcement no one saw coming.
He and his wife of six months, Katelyn, revealed they were expecting their first child together.
The "Good As You" singer shared an ultra sound photo on social media and wrote, "It's been so hard keeping this a secret!!!!! But the KB'S ARE GONNA BE PARENTS!!! KB3 ????? IM GONNA BE A DADDY!!!!!!!!!!!!!!!!!!!!!!!"
It's been so hard to keep this a secret!!!!! But the KB'S ARE GONNA BE PARENTS!!! KB3 ????? IM GONNA BE A DADDY!!!!!!!!!!!!!!!!!!!!!!! pic.twitter.com/CW2Zf7ejie

— Kane Brown (@kanebrown) April 15, 2019
Katelyn followed up her husband's announcement with a video of them seeing the baby move around in her belly.
The husband and wife duo walked the red carpet prior to Wednesday night's (May 1) Billboard Music Awards, where Brown was up for four awards.
View this post on Instagram
Ellen DeGeneres sent her Executive Producer, Andy Lassner to Las Vegas to cover the red carpet for her. While she was filming her talk show, she went live to his coverage and Brown was nearby with Katelyn!
"You have some very exciting news you want to share with Ellen and Ellen's audience," Lassner said.
Katelyn started off saying, "Well, we're having a baby, everybody already knows that. Do you want to tell them what it is?"
Not even DeGeneres knew they were going to do the gender reveal on her show! After a little freak out from Lassner, DeGeneres, and Lassner's co-host, the country star was able to spill the beans.
"We're having a baby girl," Brown told everyone.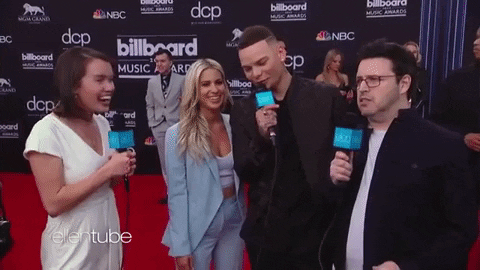 Brown clearly can't wait to be a dad, and it will be so cute to see him with a little girl!
"I'm prepared. I'm not going to let the baby go," Brown told People after the gender reveal. "I'm going to hold on to [her] the whole time — I might be carrying the baby down the carpet with me next!"
Congratulations to Kane and Katelyn!
Watch the full red carpet interview below.