Team Kelly Singers Placed In Unique Situation
If you tuned in to Season 15's first night of the knockout rounds, you may have noticed something different. For starters, fan-favorite Team Kelly contestant Cody Ray Raymond was absent.
Raymond made the choice to leave the show between the battle and the knockout rounds, citing "personal matters."
To all my supporters and new fans, thank you all for the love with my journey so far, but due to personal matters, I've had to bring my Voice chapter to an end. I'm okay, my family's okay and stay tuned for new music coming. Sending love back ??❤️?

— Cody Ray Raymond (@codyrayraymond) October 25, 2018
Due to Raymond's departure, his coach Kelly Clarkson had to get creative with how she handled the knockouts. Typically, two artists face of against each other, with each performing their own songs. Their coach then choses the winner, while the loser is up for steal from another coach.
Since Raymond left the show, that left Clarkson with an uneven number of contestants. So she decided have three of her contestants face off against each other, and she would pick two winners.
The three contestants who were looped into this unique situation were Kymberli Joye, Zaxai, and Natasia Greycloud. Zaxai performed Smokey Robinson's "Crusin'," while Joye sang country star Maren Morris' pop collaboration with Zedd, "The Middle."
Jaw-Dropping Rendition Of An Iconic Country Song
As for Greycloud, she visited what has arguably been the most popular song in country music over the past three years. That is none other than "Tennessee Whiskey," an old song that Chris Stapleton brought back into popularity.
While Stapleton's rendition of "Tennessee Whiskey" is the most popular one right now, it's not the only one out there. The song was actually first recorded by David Allan Coe, and later by George Jones.
Due to its long history and current popularity, it seems like anyone who can sing has performed "Tennessee Whiskey" at some point in time. But no matter how many times you've heard the song, you're sure to be amazed by what Greycloud was able to do with it.
She started off singing soft and slow at first, giving her voice time to build. But even in those tender moments, she still had Clarkson and Jennifer Hudson yelling for joy over the top of her performance.
As the song progressed, the power in Greycloud's voice grew. Soon, she was belting out notes that were way up in the heavens.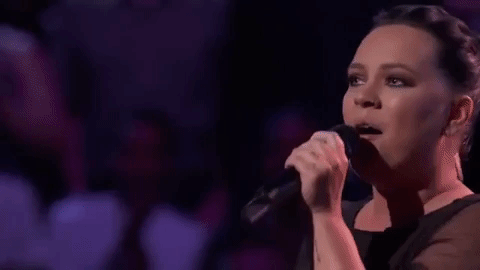 Can You Believe She Didn't Win?
Clarkson and Hudson couldn't contain their excitement throughout the performance. Each one of them exclaimed "yeah!" over and over again, making it clear they were impressed with what they heard.
That's why you may be shocked to hear that at the end of it all, Greycloud was not chosen as the winner of the knockout. Crazy right?
But as you watch her sing "Tennessee Whiskey" in the clip below, there's no need to fret. What you don't see in that video is what happened after Clarkson made the decision to let her go.
After watching her impressive performance, Blake Shelton knew he had to snag Greycloud for his own team. He used his one steal on her, proving he has strong faith in her talent!
We can understand why he wanted to save her…she brought the heat to her performance and proved she's a force to be reckoned with!