George Strait's Hit Song Rides Into The Sunset
With 61 number one hits, George Strait has no shortage of popular songs. Strait's success has led to him being called "The King of Country," making him a favorite artist for others to cover.
One of Strait's most frequently-covered songs is his 1983 single, "Amarillo by Morning."
Surprisingly, "Amarillo by Morning" is not one of Strait's 61 number ones. While the song managed to snag the top spot on the charts in Canada, it peaked at the fourth spot on the Billboard charts in the U.S.
As the years have passed, the chart results haven't mattered as much. Now, "Amarillo by Morning" is simply regarded as one of Strait's signature songs, making it a fan-favorite to cover.
There Are So Many Renditions
Strait's version of the song is actually a cover itself. It was first recorded by country/pop artist Terry Stafford, who also co-wrote the tune. Coincidentally, Stafford passed away in Amarillo, Texas at the age of 54.
After Strait, many more artists have jumped on to cover the song, including Big & Rich's John Rich.
Rich sang "Amarillo by Morning" as a tribute to Strait during the ACM Artist of the Decade concert in his honor.
Aspiring artists have also offered their take on the tune, including one talented singer-songwriter named Madelyn Victoria. Along with her brother, Victoria ended up delivering one of the most magnificent covers of "Amarillo by Morning" that we've ever heard.
Siblings Hit The Outdoors For Authentic Cover
You'll find yourself captivated from the second Victoria opens her mouth to sing. Her voice has the pure country sound that makes it the perfect fit for songs such as "Amarillo by Morning."
We also have to give a shout-out to Victoria's brother for accompanying her on guitar. He showed off some pretty nifty guitar playing that would make Strait proud!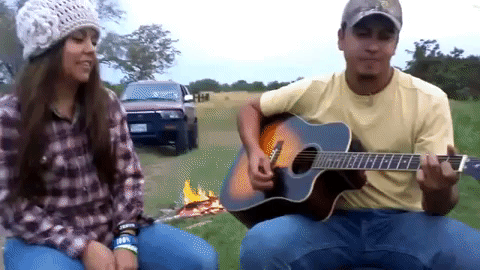 What makes this brother and sister duo's cover all the more remarkable is the fact that it was filmed outside. It sounds and looks like it was windy at the time, but the siblings didn't seem fazed by it at all. Victoria managed to project her voice loud and clear above the sound of the wind, which proves just how talented she really is.
This is as fitting of a tribute to Strait as we have ever seen. Tune in below to watch Victoria and her brother cover "Amarillo by Morning," and prepare to be blown away.
If you like what you hear, click here to follow Victoria on Facebook so you can keep up with her latest news and videos.