A small private plane carrying Dale Earnhardt Jr. his wife Amy, and their baby daughter Isla Rose crashed on Thursday, August 15th, 2019 in Elizabethton, Tennessee just after 3:40 pm local time.
According to local news reports and the Carter County Sherrif's office, the Cessna Citation plane had landed at the Elizabethton Municipal Airport this afternoon and was confirmed to be carrying Dale Jr., Amy, and Isla along with his two longtime pilots.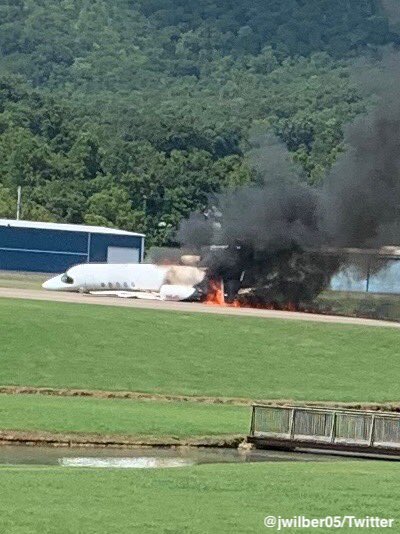 After a successful landing, the plane skidded off the runway and caught fire that has been documented by a series of photos and videos that are truly horrifying.

Dale Jr., Amy, and Isla were all rushed to the hospital following the plane crash. Dale's sister, Kelley Earnhardt-Miller, confirmed via Twitter that they had been evacuated without serious injuries and said: "everyone is safe."
ABC News reports that Dale Jr. has been hospitalized for injuries from the crash, but that Amy and Isla were not being admitted.
Watch the full video news report below. 
Our thoughts and prayers are with them…
BREAKING: NASCAR driver Dale Earnhardt, Jr, his wife and daughter have been transported to a hospital following a fiery plane crash in Tennessee.
Info: https://t.co/8pljBCG42u pic.twitter.com/SaejZWj140

— NBC DFW (@NBCDFW) August 15, 2019