Dierks Gives His Kids The Chance To Shine
All three of Dierks Bentley's kids have been given the chance to share the spotlight with their father. His middle child, daughter Jordan, walked the red carpet with him at the CMT Music Awards in 2018.
Dierk's eldest, daughter Evie, is someone that fans were first introduced to in 2012 when her vocals were featured on her father's song "Thinking of You." Evie has since appeared on stage with her father many times.
Finally, Dierks' youngest child, now six-year-old son Knox, got his own spotlight moment as the star in one of his father's music videos when he was five years old. The clip was released to accompany Dierks' single "Living," a track about slowing things down and enjoying life's little moments.
It comes off of Dierks' hit album The Mountain, which produced the number one single "Woman, Amen" and the number two-charting "Burning Man."
"Living in the moment is at the heart of Dierks Bentley's The Mountain, which is nominated for the Academy of Country Music's album of the year, and "Living" — the project's third single […] is part of its core mission."

— Megan (@wdmlg) March 23, 2019
What Inspired The Video?
Knowing how much country fans love heartwarming songs like "Living," the song has earned a special place in people's hearts. And so has the adorable music video!
Speaking to People, Dierks described his source of inspiration for the video. He says everything you see him and Knox doing throughout the nearly four minute clip are activities they would enjoy on days that he isn't on the road.
"It's basically just me and Knox, just a day in the life," he said. "The two of us, just doing what we're doing when we're off the road, which is a lot. We pack a lot into one every day."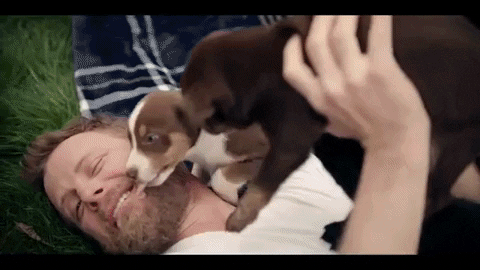 Cuteness Overload
The father-son duo certainly packed a lot of activities into their "Living" music video. They are seen snuggling puppies, jamming out on instruments, playing in an arcade, riding water slides, and getting ice cream.
Even though it's Dierks' video, all of the focus is on the adorable Knox, who seems to be having the best day of his life.
When you watch the video for "Living" below, don't be surprised if you catch yourself saying "aw" a time or two. Little Knox is so precious, and he has such a vibrant personality!
Thanks to Knox, this video is now one of our all-time favorites that Dierks has ever created. We're sure it's one of his personal favorites as well!