The Challenge Of Gift Wrapping
It always feels good to spoil your friends and family with gifts during the holiday season. But as much as you anticipate the gift giving, the gift wrapping is a whole different story.
Anyone who's ever wrapped presents before knows how tedious the process can be. Even wrapping a simple box can prove to be difficult. You have to make sure you have the right amount of paper to cover the box, and somehow always end up cutting off too much or too little.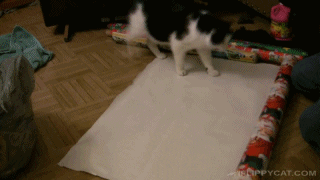 But things get even more challenging when the gift you have to wrap isn't a perfectly shaped rectangle or square.
Anyone who has ever had to wrap a frying pan before can attest that it's near impossible to do so without making it obvious to the recipient that you're giving them something that can fry up a batch of bacon and eggs.
If you've ever panicked about wrapping oddly shaped gifts, just know that you are not alone. Even country artists know the struggle, as the stars of CMA's Country Christmas demonstrated in a hysterical clip.
Country Stars Feel Your Pain
Country Christmas performers Amy Grant, Brett Eldredge, and Dustin Lynch were assigned a seemingly simple challenge. Wrap an awkwardly shaped Christmas gift, and do so in a 60 second time frame.
Grant was given an elephant figurine to wrap, Eldredge had a ukulele, and Lynch was the poor soul tasked with wrapping a football.
The stars started off feeling confident, and at first, it seemed like maybe they'd be able to crush the challenge.
But it soon became clear to the artists that their gifts were even harder to wrap than they thought. Grant seemed the least discouraged, saying, "It's never about lovely, it's just about 'get it done.'"
It seems that her attitude paid off, because she had the most success at wrapping her gift. She even managed to get some bows placed on there!
The Fellas Had A Tougher Time
But Eldredge and Lynch had a bit of a more challenging time. It would take some serious Christmas magic to be able to beautifully wrap a ukulele or football in less than 60 seconds.
Both stars took the same approach when it came to applying tape to their presents. While Grant actually had the time to rip off small pieces. Eldredge and Lynch didn't have such a luxury. Instead, they grabbed the entire roll of tape and frantically wrapped it in circles around their respective gifts.
And unlike Grant, they had no time to decorate their presents with ribbons or bows. Lynch did try to get a ribbon wrapped around his football, but when he tried to tear the ribbon off with his teeth and failed, he abandoned that idea.
Tune in to the clip below to see how everyone's finished gifts turned out. You really can't blame them for struggling to do this!
Do you have any go-to tips for wrapping oddly shaped presents? We bet these country stars would love to hear your advice!