Halloween is just around the corner and to get you into the spirit, we wanted to share one of the most fun decorations we've ever seen with you!
With Halloween decorating, some people go the scary route and completely fashion their homes into haunted houses, but this particular house went the creative route, and we love them for it!
Changing their barn into a redneck skeleton's playground, these two skeletons prove which one of them is the better banjo player by playing the iconic song "Dueling Banjos."
"C'mon, let's play a song! What, are you afraid of a little competition?" one skeleton said to his friend, egging him on.
They went on to perform a spot-on rendition of the bluegrass classic, each taking turns to play their respective parts. You can tell which skeleton is playing because of the movements in their right hand.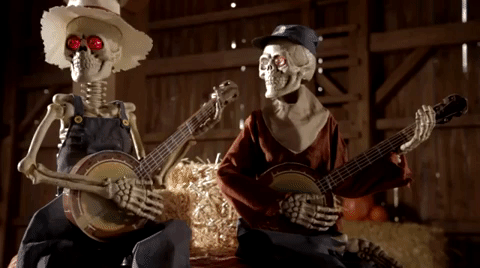 "Dueling Banjos" is an iconic song made extremely famous by the movie Deliverance. While the song "Dueling Banjos" was written in 1955, it didn't become the well-known hit that it is today until the 1972 film.
These decorative skeletons definitely put on quite a show and would make us come back to this place to trick-or-treat any day!
Watch the skeletons get down to "Dueling Banjos" below.