A Christmas Collab Between Blake & Gwen
Over the course of his career, Blake Shelton has filmed dozens of music videos for his various singles. That total includes a few collaborative videos with his wife, Gwen Stefani.
The duo's holiday duet, "You Make It Feel Like Christmas," was actually released in 2017 on Stefani's record of the same title. But the two didn't get around to releasing a music video for the tune until 2018.
Check out the #YouMakeItFeelLikeChristmas video 🙌 @BlakeShelton #cantbelivethishappened?!!! #christmas #music #love ❤️🤠 Watch it now on @YouTubeMusic @VEVO 🎄❄️🎁https://t.co/yUFEkAWyRw pic.twitter.com/jBjamXzDtF

— Gwen Stefani (@gwenstefani) November 20, 2018
From the looks of it, Blake was entirely devoted to his role in the music video. He was the source of comedy in the clip, as he made silly faces at Stefani's actions.
But the best part comes when he catches his lady love snuggling up to Santa next to the Christmas tree. His reaction is priceless!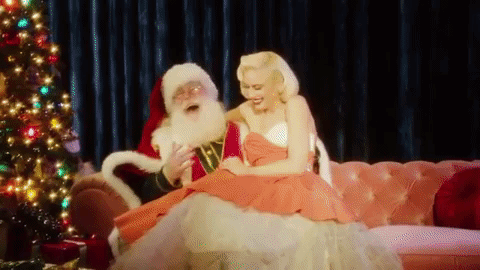 Blake Wasn't As Into It As It Looks – At Least Not At First
While it seems like Shelton had a fun time embracing his acting skills for the video, Stefani admitted that he had to be convinced to do so. During an interview with Ellen DeGeneres, she revealed that Shelton actually dreads making music videos!
"We got to do a video together," Stefani said. "And it was really crazy because Blake actually hates doing music videos. Hates!"
These gifts are bananas. B-A-N-A-N-A-S. Enter to win all of today's gifts! https://t.co/i96qtFMufs @GwenStefani pic.twitter.com/IShG9CMsc4

— Ellen DeGeneres (@TheEllenShow) December 4, 2018
Despite his distaste for music videos, Shelton was willing to make one with Stefani. But if he had things his way, the video would look quite different from the way it does now!
"His manager was like, 'He'll do it, but he'll only do a performance thing,'" Stefani said, "and then we just kept talking him into more and more and more."
Running low on Christmas cheer? Take a quick look at @gwenstefani & @blakeshelton's adorable video for a recharge: https://t.co/9qBbbYFCJe pic.twitter.com/KNiBpGeasQ

— idolator (@idolator) December 5, 2018
We're glad that Stefani was able to convince Shelton to go all-out for the music video, because the result is both adorable and hilarious. On top of that, it was the couple's first music video together!
If you haven't seen the official video for "You Make It Feel Like Christmas" yet, you'll definitely want to check it out below. It's sure to put you in the Christmas spirit!