Week after week, Walker Burroughs has wowed the American Idol judges with his soaring vocals and sincerity. The 20-year-old from Alabama has landed in the Top 14 and is well on his way to taking the whole competition.
We first met Walker Burroughs when he dropped our jaws with his audition performance of "Love Like This" by Ben Rector. At the time, judge Katy Perry predicted that Burroughs would make it to the Top 10.
"That is just so natural and cool and effortless and dope," Perry said. "Walker, you have this like Ben Folds, Billy Joel…I think you're Top 10 material."
Luke Bryan predicted that people at home would be "captivated" by Burroughs. So far, his prediction has held true. Every week, Burroughs has brought his a-game and has wormed his way into our hearts with his covers of hits by Stevie Wonder, the Bee Gees and Jason Mraz.
During this season's first live episodes Sunday night, Burroughs took his music another direction by choosing to cover "Climb Ev'ry Mountain" from the 1959 Rogers and Hammerstein musical The Sound of Music.
The song was especially powerful for Burroughs who has made it no secret that his American Idol journey has been a difficult one.
This experience has been really tough. I'm grateful and homesick, and learning this weird balance of some the best and hardest things I've experienced.

— Walker Burroughs (@WalkerBurroughs) April 15, 2019
We're used to seeing Walker behind a keyboard or piano, but when he took the stage to sing the beloved musical number he stood alone behind the mic. In true Walker Burroughs fashion, he delivered an emotional, flawless performance as if he had been doing it for decades. The crowd rose to their feet as he concluded, and the judges had nothing but praise for the singer.
"It was fun watching you start to build the tension and the power," Luke Bryan said. "We heard notes that we haven't heard you hit yet. Then you brought the whole house down….What a tough, tough song here in crunch time. Way to roll the dice on it, buddy."
Lionel Richie agreed, saying, "The most important this is, you have grown so much. The confidence you have tonight is going to take you to the next level of your life, of your career….I want you to be very proud of where you are right now."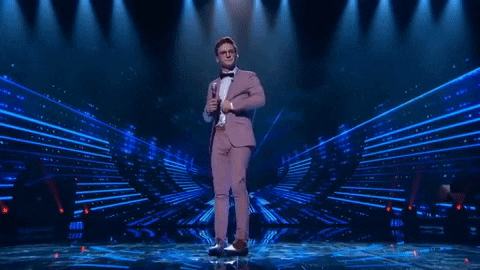 The Top 14 Idol contestants are now counting on the public vote to help them reach the next stage of the competition. Results from Sunday's vote will be revealed during Monday night's episode.
Watch Walker Burroughs sing "Climb Ev'ry Mountain" in the video below.