Idol Top 6 Challenged With Two Themed Performances
American Idol embraced various themes throughout its second rebooted season, with each theme posing new challenges to the contestants. From putting their own spins on Disney classics to conquering iconic Queen songs, the themed weeks pushed the singers' talents to the limits.
When it came time for the Top 6 artists to perform, they each had to perform two songs fitting two different themes. One theme was "Showstoppers," which had the artists performing classic crowd-pleasers such as "Johnny B. Goode" and "Open Arms."
The second category was "Woodstock," in which the contestants sang songs performed at the famous Woodstock festival in 1969.
Woodstock Poster pic.twitter.com/Go71lRy55T

— History Lovers Club (@historylvrsclub) April 28, 2019
Laci Brings Janis' Music To Life Again
A favorite from the start, Laci Kaye Booth had a lot to live up to with her Woodstock-themed performance. The young Texas singer was tasked with singing the classic song "To Love Somebody," which was originally recorded by the Bee Gees and released in 1967.
Janis Joplin famously covered the song for her 1969 album I Got Dem Ol' Kozmic Blues Again Mama!. She also performed it Woodstock…which took place just a year before she passed away.
It was Joplin who Booth tried to channel during her performance of "To Love Somebody" as a member of the Idol Top 6. Her smoky voice was the right fit for the song.
Most of Booth's performances tend to be more subdued, but this one gave her the chance to get a little louder and show off a more extensive range.
A Future Idol Winner?
By the end, the judges made it clear they were huge fans of what Booth just did on stage. As they did from day one, they praised the uniqueness of her voice, and made sure Booth knew that she has something special.
Katy Perry did offer a bit of critique, telling Booth that she'd love to see her move around more on stage. She pointed out her fringe jumpsuit, saying she can "not not move the fringe!"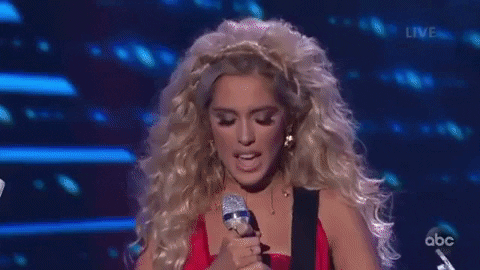 Despite that critique, Perry wanted Booth to know that she has what it takes to be a champion, telling her, "I think you could win."
She Almost Went Home
But Booth came shockingly close to losing later on that night. After four contestants were saved by America's votes, Booth and Jeremiah Lloyd Harmon were left in the bottom two. Both of them were set to go home, but the judges stepped in at just the right moment to save Booth.
Unlike The Voice, where the coaches have multiple chances to "save" artists on the show, the Idol judges can only use one save throughout the whole season. And they chose to use that save on Booth, keeping her from elimination and allowing her to advance one more week in the competition.
We're sure that Booth's outstanding rendition of "To Love Somebody" influenced the judges' decision to keep her on the show. She proved with that performance that she has serious star potential!
Tune in to the clip below to watch the performance that helped Booth sing another day as an Idol contestant. There is no one else out there with a voice like hers!