Combined Star Power Makes For Show-Stopping Moment
What do you get when to put together two major country music stars? One unforgettable performance!
That's exactly what happened when Keith Urban and Faith Hill shared the stage during the Grammy Awards in 2006. The two were both nominated for awards that night, thanks to the hard work they had put in to their careers.
Hill was nominated for three awards: Best Female Country Vocal Performance for "Mississippi Girl," Best Country Album for Fireflies, and Best Country Collaboration with Vocals for her duet with Tim McGraw on "Like We Never Loved at All."
Hill won the latter award, bringing her career total of Grammys to five.
As for Urban, he was nominated for Best Male Country Performance for "You'll Think of Me," which he won.
The Grammy was Urban's first, and he has since won many more.
A Performance To Remember
Urban proved exactly why he won the Grammy for "You'll Think of Me" when he performed it during the Grammys that year. Seated on top of a cage-like structure, Urban poured out his heart as he sang about a girl who did him wrong.
He got so into the performance at one point that he started stomping his feet as he frantically played his guitar. It's as if no one else was in the room and Urban just let all of his emotions come out.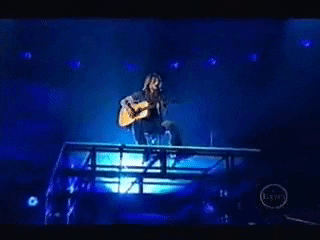 Of course, there were people in the room, and they were mesmerized by Urban's performance. He earned a well-deserved round of cheers and applause once he finished the song, but he wasn't done quite yet.
That's when Hill came strolling out on stage, her own guitar in hand. She started singing what was a new song to her at the time, "The Lucky One," which was released as the third single off of Fireflies.
Her Grammys performance with Urban helped boost the song's popularity, and it ended up peaking at the fifth spot on the chart.
Watching Hill's performance with Urban, it's no wonder why "The Lucky One" did so well. Although Urban did not sing or play with Hill on the recorded version of the song, he was happy to accompany her for her Grammys performance.
How The Crowd Reacted
Hill took the lead most of the time, though Urban did sing along with her during the chorus. He even got the chance to show off his guitar skills during a fiery solo!
The crowd was already on its feet by the time that Urban and Hill wrapped up their performance. Throwing their hands up in the air, the crowd showed how much they enjoyed the whole thing. McGraw was also in the audience, and could be seen beaming with pride at the conclusion of the performance.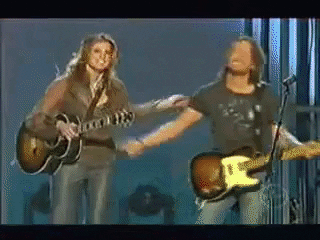 McGraw had every reason to be proud! Go ahead and tune in below to watch Urban and Hill knock it out of the park with their duet.
We hope these two will collaborate again at some point in the future, because they make a great team.