Country music fans are in for one hell of a treat thanks to Luke Combs. The powerhouse performer just dropped his new single and music video within hours of each other and it's everything we've been waiting for…and more.
Combs' Big Break
Combs began making big noise in the music industry back in 2017 with the release of his debut EP, This One's for You. Not only did This One's for You reach No. 1 within the same week it was released, but he also had five No. 1 singles come off it as well. It wasn't long before he was crushing the charts, award shows, and breaking records in the genre. From "When It Rains It Pours" to "Beautiful Crazy," it was clear, he was ready to take over country music one hit at a time.
While fans can't get enough of the talented singer, Combs was ready to introduce some new music. Just last week, Combs announced that he would be dropping his newest single, "Beer Never Broke My Heart" on May 8th. Although he had performed it live at shows over the past year, this was the first time fans would get it in their hands.
As country music listeners across the nation patiently waited, the moment finally came and let's just say – Luke Combs did not disappoint.
"Beer Never Broke My Heart
"Beer Never Broke My Heart" is the raw, upbeat, country-rock jam you'll have on repeat for months to come. Everything from the opening guitar riff to the fiery lyrics proves just why Combs is the best new thing to happen in country music.
"Longneck iced cold beer never broke my heart / like diamond rings and football teams have torn this boy apart / Like a neon dream it just don't know me, the bars and this guitar / and a longneck iced cold beer never broke my heart."
You can download his new single, "Beer Never Broke My Heart" here.
Just when you thought it couldn't possibly get any better – he dropped the music video and we're obsessed.
Starting out in an empty dive bar, Combs takes the stage with his bandmates for one rowdy performance. Slowly, they start to catch the attention of bargoers meanwhile telling the story of broken-hearted souls. Leave it up to Combs' to get you through even the worst heartache.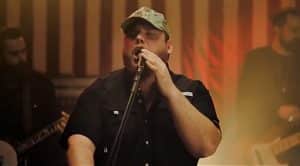 Check out the video for "Beer Never Broke My Heart" below.