Six Voice Singers Tackle One Iconic Song
Before eliminations narrowed down the Top 13 contestants of Season 16 of The Voice to the Top 8, Blake Shelton had six artists left on his team.
No other coach had such a massive group of artists left. Kelly Clarkson only had two, Adam Levine also had two, and John Legend had three.
So when it was announced that Team Blake would be performing a coach-contestant collaboration, viewers knew it was going to be epic. When you combine that many wickedly talented artists together, the result is guaranteed to be spectacular.
Even though the majority of the artists on Shelton's team could be called country by definition, the song they performed with their coach was actually a rock and roll hit. That song was "Got My Mind Set on You," which was originally recorded by R&B singer James Ray in 1962.
Decades later, ex-Beatles member George Harrison released his cover of the song as a single. The song became his third, and final number one hit in the U.S.
The Perfect Pick For Blake's Team
With its upbeat vibe, "Got My Mind Set on You" was the perfect song choice for Team Blake to perform. The contestants thrive when they're given the chance to let loose, and the song gave all of them that chance.
Everyone started off in a line next to each other on stage, as each artist took turns singing a short solo before Shelton took over.
The four fellas on Shelton's team, Andrew Sevener, Gyth Rigdon, Dexter Roberts, and Carter Llyod Horne, then left the platform they were standing on to come up front and interact with the crowd.
One Outstanding Finale
The ladies, Kim Cherry and Oliv Blu, stayed behind with Shelton while they got ready for their grand finale.
That finale featured Cherry rocking out on the saxophone, which added an exciting element to the performance. Even Clarkson looked impressed when Cherry started playing!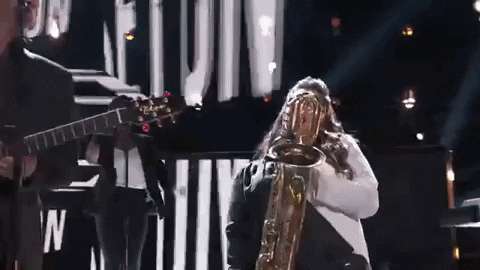 We could keep talking about this fantastic performance, but it's best if you just see it with your own eyes. Check it out in the video below!
After watching this, it should come as no surprise to that Shelton managed to keep five of his six team members after the eliminations were over! He knows how to pick prime talent for his Voice teams, that's for sure.