The Kelly Clarkson Show just debuted earlier this year, and it's already one of the most-viewed daytime talk shows in America. After only a few months on the air, it was announced the show had been renewed for a second season!
Did you hear the news?! #KellyClarksonShow is coming back for Season 2! pic.twitter.com/Mg6whCQTXZ

— The Kelly Clarkson Show (@KellyClarksonTV) November 19, 2019
Hosted by former Idol winner and current Voice coach Clarkson, the show has welcomed famous guests such as Garth Brooks, Dr. Phil, and more recently, Tom Hanks.
Hanks came on the show to share stories from his latest movie, A Beautiful Day in the Neighborhood. Hanks plays Fred Rogers in the film, the late television icon who led the children's series Mister Rogers' Neighborhood.
Those who watch the film get to see Hanks sing the show's iconic theme song, "Won't You Be My Neighbor?"
While speaking to Clarkson in an interview, Hanks said the "Won't You Be My Neighbor?" scene was "a nightmare" to film. He told her he had to go through nearly 30 takes in order to get it just right.
In honor of Hanks' visit, Clarkson decided to open her talk show in a special way. She used her opening "Kellyoke" segment to pay tribute to Mister Rogers, and sang her own rendition of "Won't You Be My Neighbor?"
Her lovely, jazz-influenced performance was enhanced by the performance of a dancer in the background. The dancer portrayed the famous opening scene from Mister Rogers' Neighborhood, when Mister Rogers would take off his jacket and shoes while welcoming the viewers.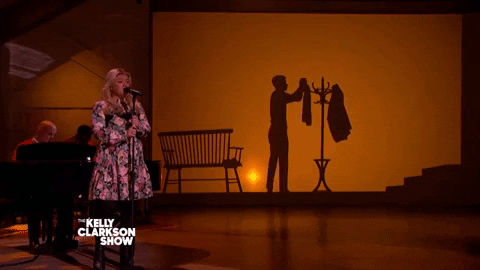 Both the dancer's and Clarkson's performances were stunning. This "Kellyoke" segment proves she truly can sing anything and make it sound spectacular.
You can watch Clarkson honor Mister Rogers by singing "Won't You Be My Neighbor?" below. Her performance is sure to make you feel extremely sentimental if you or your children grew up watching Mister Rogers on TV.