Few events in recent history have shaken the world like the fire that nearly destroyed the centuries-old Notre Dame Cathedral in Paris on Monday (April 15). But, in the midst of the heartbreak, people have found reason to hope.
THE HISTORY
The cathedral was built on a small island in the middle of the Seine river. Construction began in 1163, during the reign of King Louis VII, and was completed in 1345.
Flying buttresses were added to the design of the cathedral after construction had begun. The buttresses were meant to hold the thin, tall, Gothic-style walls up and prevent cracks in them while providing support to the structure. The result was a stunning design that added to the cathedral's Gothic style.
Numerous historical events took place in the cathedral including the coronation of Henry VI of England. He was made king of France inside Notre Dame in 1431. Napoleon Bonaparte was crowned emperor there in 1804.
THE TRAGEDY
The world watched as flames engulfed the roof of the 850-year-old cathedral on April 15, 2019. With more than 13 million visitors to the famous church annually, it is the most visited landmark in Paris. So, it's no surprise that the devastating fire shook people of faith from around the world.
As the fire raged, bystanders stopped in their footsteps to watch. Some cried, some sang and others simply stood in shock.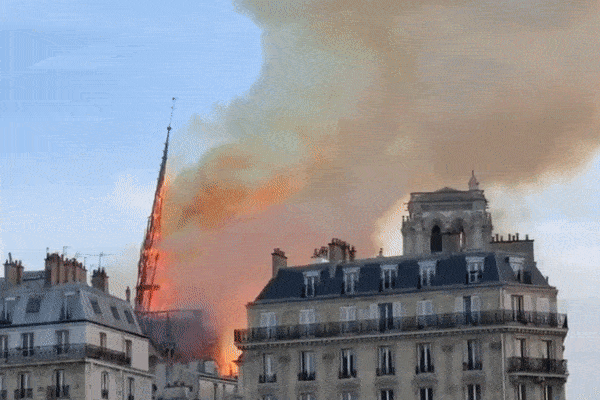 The cause of the fire is under investigation, but it thought to have been started accidentally due to a renovation project that was taking place at the cathedral.
THE HOPE
Photos and videos of the tragic Notre Dame fire lit up social media. Some of the most touching clips show heartbroken spectators raising their voice in song as the cathedral burned in front of them.
But, perhaps the most shocking photo didn't reach viral status until a women online stated that she could see Jesus in the flames of the burning cathedral. Lesley Rowan, a 38-year-old mother from Alexandria in West Dunbartonshire, Scotland, took to social media to share the photo.
"I may be letting my mind play tricks on me here, folks take a close look at this picture and what do you see," she wrote on Facebook, the Daily Mail reports. "I feel like it will bring comfort to people in Paris and all over the world at this sad time."
Some social media users quickly agree with Lesley's claims, saying, "Looks like a figure of Jesus, or I am tripping?"
"I can see it pretty clear, gown and all," another wrote. Do you agree? Look at the photos below and let us know if you see what we see by sharing.