After many years as a judge on various competition series, Simon Cowell has seen it all. And those who watch shows such as America's Got Talent knows that he's often the hardest judge to impress.
Cowell has never been afraid to speak his mind, and won't sugarcoat things if he thinks a performer is no good. 
He also has a history of stopping performers mid-audition if he doesn't like their act. This is something he tends to do with singers whenever he doesn't like the sound of their performance.
But Cowell also has a bit of a soft side, and often allows second chances. 
That's exactly what he did in the case of a young soulful singer named Ansley Burns. The small town girl hit the AGT stage hoping to impress the judges with her rendition of "Think" by Aretha Franklin.
However, it soon became clear that Cowell was not pleased. He turned to fellow judge Julianne Hough to ask where the backing track came from, making it clear he was not a fan.
He let Burns' performance continue for a bit longer before he couldn't take it any more. Cowell stopped her mid-song, and let her know exactly what was on his mind.
"I don't think this backing track was working for you," he said. "I mean, it was a horrible, horrible, backing track." He then went on to add, "We really like you, but that was terrible."
You could tell that Burns was upset, and she surely thought her AGT dreams had come to an end.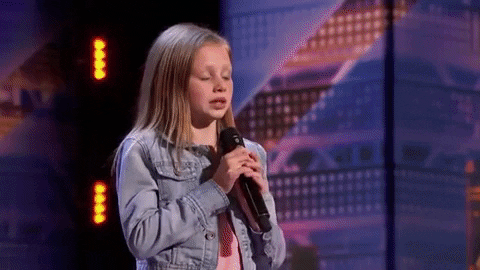 But Cowell's beef was with Burns' backing track, not her voice. After bringing her some water, Cowell encouraged the girl to sing the same song again, only this time he wanted her to do it a cappella.
Burns appeared nervous, but knew she couldn't pass up her second chance. She tore into the song with ferocity, and without the backing track her powerful voice got the chance to shine.
Needless to say, Cowell's choice to stop Burns and have her sing again ended up turning out well for her! You can watch her outstanding audition for AGT below.