Sealed in 1969 and destined to be opened in celebration of this small town's 300th anniversary of settlers first making a home there, this time capsule was something this small town had been looking forward to for half a century.
For as long as Cara Potter has served the town of Derry, New Hampshire as director of the Derry Public Library – the time capsule has remained untouched.
This unique safe was sealed during the 250th celebration of when settlers reached the area where Derry now is. It was once called Nutfield, and became the towns of Derry, Londonberry, Windham, and Manchester's "Derryfield" neighborhood.
The safe was intended to be opened for the 300th anniversary, and even was imprinted with "300th Anniversary" on the door. At the time the capsule was sealed, a record was not left of what was inside the safe – leaving a mystery to those who opened it five decades later.
"I was considering running a library program around opening it and so I wanted to open it to make sure we could actually physically do that," Potter told WMUR, adding that "nobody touched it until last spring."
Luckily, the combination was written down on a piece of paper and taped to the back of the capsule. Within a couple of tries, the staff was able to get it open.
"It took us several tries to get it open because we had the combination and it's an older safe," she said. "So by the time we actually got it open, there were a number of staff people standing around watching. "
With all the excitement surrounding the time capsule and its mysterious contents, it's no surprise that there was a group of people standing around to see it open for the first time.
Some believe that priceless moon artifacts could be inside since Alan Shepherd, the first American in space and one of the moon landing astronauts is a Derry native.
But upon opening the safe, Potter says, they were horrified.
The small crowd gasped as the door swung open and revealed that the entire safe was empty – not a trace of anything to be found, and no evidence that anything was ever put inside.
"We were a little horrified to find that there was nothing in it," Potter said. "It could have happened at any point. They even speculated that nothing actually got put in there in the first place. We just don't know."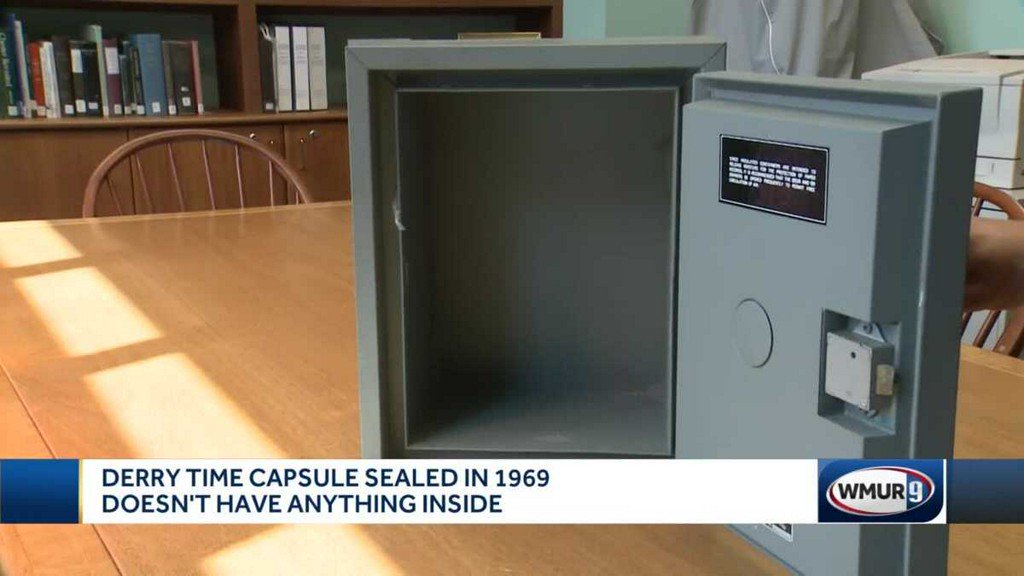 Historians and town officials were notified of the mysterious disappearance of whatever might have been contained inside, and as it turns out, there was never an official list kept of what was supposed to be in the capsule.
What a shocking twist, and a waste of 50 years! There could have been cool stuff inside.
Check out the full report below.