Stepping out in front of the three judges, this young singer-songwriter was one of the most soft-sounding auditions they've had – but there was something Luke Bryan spotted that lit a fire in him.
Young 24-year-old Clay Page showed up in boots for this musical affair and brought his trusty guitar with him. Set up to perform an acoustic tune, he caught Katy Perry's eye right away due to his similar fashion sense to Luke Bryan.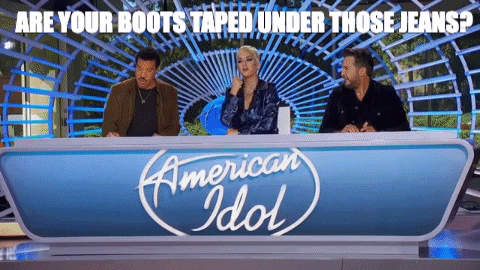 "I love how you talk – out of one side of your mouth!" she said excitedly. "It's cool – are your jeans taped under those boots?"

"They're not." Page said with a chuckle.

"Well, Luke's boots are," Perry said turning to her country counterpart.
Luke then explained how the boot-taping works and how badly he cannot stand jeans that flare out over his boots – something that's super common in the country world.
"His jeans are kinda tight though – he's taking a page outta my book!" Luke exclaimed. 
After a few chuckles between Page and the judges, he jumped right into his whiskey-smooth audition – a cover of Thomas Rhett's "Die A Happy Man."
Just a soft strum on the guitar and his gentle voice brought this truly acoustic rendition of a hit song to life, right in front of the judges' eyes and it really hit home with Luke!
For the 2nd season of ABC's revival of American Idol, the judges seem to have found their sweet spot with plenty of country singers and talented folks from all across the nation, but this one stood out among the crowd – and not because he was the best they'd ever seen.
Flashing Katie Perry a few excited looks during the song, Luke Bryan was anxious to speak when the young cowboy finished his song.
"Clay – man, you have a very very infectious knack…it's like a perfectly not-trying-too-hard delivery that's so gentle to listen to," he began. "You might be our best representation thus far."

"You are not the best country singer in the world but you do not have to be. You're just making us hang on your every word. I'm sold completely – I'm fired up!"
And with that – the three judges took a vote on whether he would be going to the next round of the competition in Hollywood.
Check out this twangy singer's infectious sound below – and find out if he made it to the next round!