Willie's Rough Year Had A Bright Spot & New Music
In 2017, Willie Nelson had fans worried when he cancelled a series of shows because he was feeling under the weather.
Willie Nelson canceled 5 shows in the last 2 weeks & just today he canceled shows for 2/10 and 2/11. This undisclosed illness is concerning.

— Andrew Burkey (@aburkey02) February 8, 2017
Nelson's publicist confirmed on February 13, 2017 that the country legend was feeling better and was ready to hit the road again. The publicist stated that Nelson's illness was "just a cold" and that he was expected to perform as scheduled at the San Antonio Stock Show and Rodeo on February 16, 2017.
At the time, Nelson was also preparing for the release of his album titled God's Problem Child.
Released on April 28, 2017, the day before Nelson's birthday, the album was his first to contain original material in three years.
All About The Songs
Seven of the album's 13 tracks were co-written by Nelson. His producer, Buddy Cannon, co-wrote all of those songs with him. The two collaborated on the pieces via text message, since Nelson was on tour for most of 2016.
One of the songs on the album that wasn't written by Nelson is titled "A Woman's Love." That song was co-written by Mike Reid, who is perhaps most well-known for writing Ronnie Milsap's smash hit, "Stranger in My House."
Nashville native Sam Hunter joined Reid as the other writer on the track.
"A Woman's Love" focuses on how love can be an all-consuming feeling. As Nelson sings, "If a woman's love ever finds your soul, it will break your will and take control. Cause the very thing that your heart cries for is a woman's love, a woman's love, and nothing more."
A New Side To Willie
Nelson debuted a music video for the song on February 15, 2017. The video shows Nelson in his recording studio, with his trusty guitar Trigger on his lap. While most of the video is shot in black and white, some details are shown in full color.
For example, while Nelson appears in black and white, his reflection in the mirror is in color.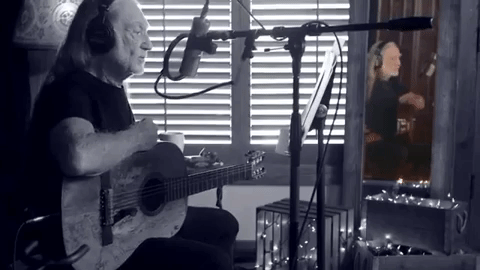 Then there are a few points in the video when the entire screen fills with vivid color. However, the color only sticks around for a short while, and everything eventually fades back to black and white again.
The video also shows a soft, sensitive side to Nelson. Since the song is all about love, the tender approach seemed like the right way to go. Tune in below to see the stunning video for Nelson's new song "A Woman's Love." Once you're finished, let us know what you think about it by dropping us a comment below!