Blake Has Always Been A Voice Constant
After 16 past seasons on The Voice, Blake Shelton is the coach with the most winning titles. He's led six contestants to the winning spot and has taken many more to the finale.
While two of the red chairs are filled by a rotating panel of coaches, the two constants had previously always been Shelton and his arch nemesis, Adam Levine. However, Levine made the choice to leave the show at the conclusion of Season 16.
But what about Shelton? Would he ever consider leaving The Voice?
Following the conclusion of The Voice's 12th season in 2017, Shelton opened up about his future with the show during an interview with radio station WKRO 93.1 FM. He confessed that he wasn't going away any time soon, but admitted that he may not be on the show for more than a few seasons.
"I think at least a year," Shelton said, revealing how much longer he planed to stay on The Voice. But he openly admitted that he may stay longer, saying, "Anything can change."
A Key To Help Him Stay
At that time, Shelton was anticipating Kelly Clarkson's addition to the show. She was a first-time coach during Season 14, and he wanted to be there to work with her. 
Since Shelton is so close with Clarkson, he knew he had to stay around as long as she's a coach on The Voice.
"I'd like to at least go far enough to do that season coming up with Kelly Clarkson as a judge," he told WKRO. "I think that's gonna be a lot of fun to have her in there."
Clearly Shelton and Clarkson had a lot of fun during Season 14, because they both signed on to coach again for the 15th, 16th, and 17th seasons. So while Shelton may talk about leaving, he's prepared to stick it out for a little while longer, especially if Clarkson is on the show.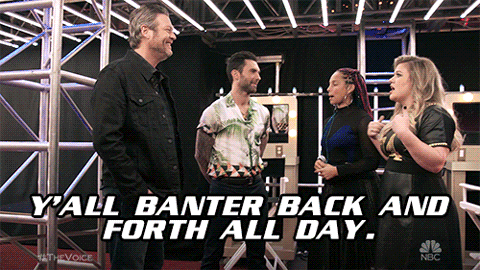 For that reason, we hope that Clarkson never steps down from her role as coach, otherwise we may lose Shelton too!
Are you glad to hear that Shelton plans to stick around for a little while? We feel like The Voice just wouldn't be the same without him!