The CMA promised a wealth of collaborative performances at the 2019 awards ceremony, and they stuck to that promise!
In addition to an all-star tribute to Kris Kristofferson and an opening performance featuring numerous female artists, the CMA announced collaborations between Kacey Musgraves and Willie Nelson, Chris Stapleton and P!nk, and Brooks & Dunn and Brothers Osborne, just to name a few.
Blake Shelton and Garth Brooks also secured a collaborative performance slot. The duo shared they would sing their duet "Dive Bar" during the show.
"Dive Bar" was released in June to much fanfare. The song was out for more than a month before Brooks and Shelton performed it live for the first time.
That performance took place at Brooks' sold-out Stadium Tour stop in Boise, Idaho. A few more months passed, and Shelton and Brooks weren't seen singing "Dive Bar" together again until the music video for their song dropped on November 1.
The music video was the first one Brooks had released in ten years.
Speaking of firsts, Shelton and Brooks checked off another "first" for "Dive Bar" by singing it at the CMA Awards. As Brooks shared on social media, they had never performed "Dive Bar" on live TV before, so the CMA Awards would change that.
At last, "Dive Bar" made its live TV debut when the CMA Awards aired on November 13.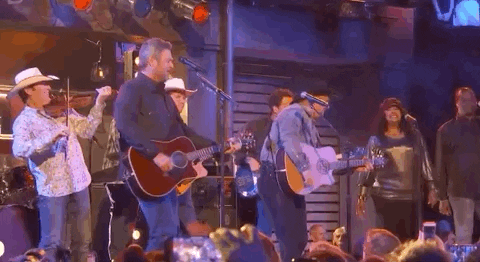 There was a full-out bar scene set up on the CMA stage for the duo to perform in front of. Their performance was a highlight of the night, and left the crowd cheering with delight at the end!
It seems that the viewers at home enjoyed it as well.
Nothing makes me more proud to be an Okie than Garth Brooks & Blake Shelton performing on a fake dive bar at the CMA's!!!

— Annie (@Aknapp23) November 14, 2019
My favorite performance of the 2019 CMA Awards! What a perfect pair! https://t.co/LJMS3f2bb2

— Dale Walker (@DaleWalker2) November 14, 2019
I'm ready to go to the deep end of a dive bar with Garth Brooks and Blake Shelton! #CMAawards

— Ryan (@RyanRoach1993) November 14, 2019
Gotta love Blake Shelton & Garth Brooks!!! #CMAawards https://t.co/asF6Ok4ZWf

— Heather Gasol (@HGasol) November 14, 2019
Garth Brooks + Blake Shelton = the reason I stayed up. #CMAawards

— Emily Longeretta (@emilylongeretta) November 14, 2019
Unfortunately, there is currently no video of the duo's "Dive Bar" performance online. Brooks is usually pretty strict when it comes to how he shares his music, which could be the reason why.
But you can relive Shelton's other CMA Awards performance by watching him sing "God's Country" below.
Now we're left with only one question. When are Brooks and Shelton releasing their next duet?