During the Season 17 blind auditions, the Voice coaches did and said some pretty outlandish things in the hopes of snagging coveted contestants for their own teams. In Blake Shelton and Gwen Stefani's case, the lovebirds weren't afraid to bicker with and tease one another whenever they wanted the same contestant.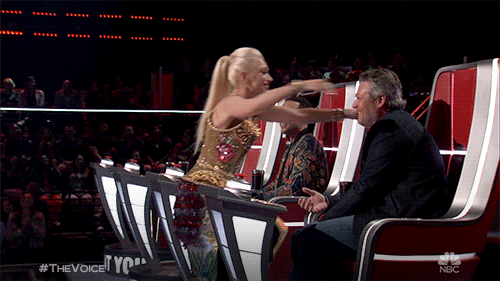 But once the blind auditions ended, the coaches only had to fight for a contestant's attention if more than one person tried to "steal" the loser of a battle or a knockout. This changed the dynamic between the coaches, who started giving advice rather than dishing out digs.
Stefani was certainly in need of advice after her teammates Destiny Rayne and Rose Short competed in their knockout round. Rayne sang "Tell Me You Love Me," while Short performed "Big White Room."
After the performance, Stefani turned to her fellow coaches as she wondered who to choose as the winner.
Shelton jumped in to offer her some solid advice, saying that Rose's performance was "hands down" his favorite he had seen in the knockouts…even more than performances from his own team members!
But Short wasn't the only person Shelton praised. He started complimenting Stefani, telling Short:
"I couldn't be happier for you, that you have Gwen as your coach. Because I've had Gwen as my best friend, and I can see the effect that it has on somebody, the way she helps you to believe in yourself."
As you would expect, that speech made Stefani and the other coaches emotional.
Exclusive: Blake Shelton and Gwen Stefani are getting emotional during #TheVoice's knockout rounds!https://t.co/87rIfOUaBj

— Entertainment Tonight (@etnow) November 5, 2019
"I guess I'm gonna cry over here!" Gwen said.
Kelly Clarkson called Shelton's speech "very sweet," and John Legend agreed it "was beautiful."
It seems that Stefani took Shelton's comments to heart, because she ended up naming Short as the winner of the knockout. You can check out her performance below to see why Shelton called it his favorite knockout performance of the season.