Perhaps the Grammy Awards should have been renamed the Kacey Awards for the night. Kacey Musgraves dominated music's biggest event with wins in all of the four categories in which she was nominated during the 61st annual Grammy Awards that took place in Los Angeles Sunday night (February 10).
Prior to the televised portion of the Grammy Awards, the Texas native had already won two trophies: Best Country Song for "Space Cowboys" and Best Country Solo Performance for "Butterflies."
During the live broadcast, Musgraves was awarded the coveted trophy for Best Country Album, beating out last year's big winner Chris Stapleton as well as Kelsea Ballerini, Brothers Osborne, and newcomer Ashley McBryde.
But, it was her win in the evening's biggest category that truly shocked the singer. Musgraves was the only country artist nominated in the category of Album of the Year that hasn't been won by a country artist since Alison Krauss and Robert Plant took home the category win ten years ago. Musgraves' reaction to being named the winner of the 2019 Album of the Year was proof that she never saw it coming.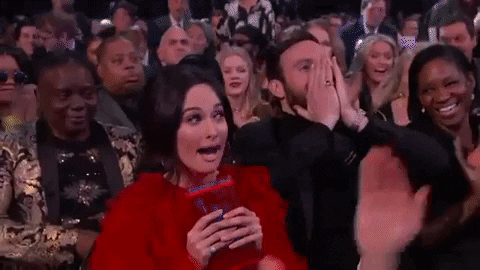 It was a well-deserved win for Musgraves who poured her heart into Golden Hour, her fourth studio album. Musgraves credits the success of the 13-track project to her husband, Ruston Kelly.
"I have a lot more love songs this time around, and I've never been one to write a love song and really feel it," Musgraves said of the album. "That probably sounds like the most depressing thing ever. [But] I'm coming off getting married and being in this golden hour of my personal life, where all these things are finally coming to fruition. I found myself inspired to write about this person and all these things he brought out in me that weren't there before."
Fans connected to the heartfelt songs on Golden Hour, all of which Musgraves co-wrote, and made the album one of the most talked about of the year. So, for fans of Kacey Musgraves her epic Grammy win wasn't a huge surprise. Instead it was a long-overdue accolade for one of the best female voices in country music.
During Kacey's Album of the Year Grammy acceptance speech, she humbly thanked those who support her music and had a touching message for the seven artists she beat in the category.
"I don't even know what to say. It was unbelievable to be in a category with such gigantic albums, really brilliant works of art. But, I'm very thankful and I know that winning this doesn't make my album any better than anyone else's in that category. They're all so good. Life is pretty tumultuous right now for all of us…it can feel that way. I feel like because of that art is really thriving, and it's been really beautiful to see that. Thank you for championing mine."
Congratulations to Kacey Musgraves on her well-deserved win!