Blake Shelton and Gwen Stefani first coached together on The Voice during Season 7. The two didn't get to know each other that well during the season, and Christina Aguilera returned to fill Stefani's chair during Season 8.
But when Stefani came back for Season 9, things were different. Both she and Shelton were going through divorces at the time the blind auditions were being filmed, and they bonded over their shared heartache. They quickly became friends, and eventually started dating.
That was four years ago, and Shelton and Stefani are still together. They once again coached the Voice as boyfriend and girlfriend during Season 12.
Stefani was busy with her Vegas residency and other commitments, so she was unable to return to The Voice for a while. But when Adam Levine dropped out of Season 17 right before blind auditions were being filmed, Stefani stepped in as his last-minute replacement.
Now that Stefani and Shelton have been together for four years, they are even more comfortable being a couple on camera. And they have no problem competing against one another!
In the first episode of Season 17, Stefani secretly used her "block" on her boyfriend to keep him from claiming 22-year-old singer Kyndal Inskeep, whose voice she adored. Shelton was surprised to say the least!
omggggggggggg gwen blocks blake😭😭😭😭😭😂😂😂😂😂😂😂😂😂😂😭😭😭😂😂😂😂😂😂😂😭😭😭😂😂😂

— Sherylalgoria Hoffst (@sherylalgoria) September 24, 2019
"It's never good when your girlfriend blocks you," Shelton said. "But this brings it to a whole new level, okay? This was on national television!"
Stefani had a fun time teasing Shelton, and got out of her chair and started dancing on the lit part of the stage that said "blocked."
But even though Stefani poked fun at her boyfriend, she couldn't help but feel a little bad about blocking him. Eagle-eyed viewers noticed that after hitting her block button, she turned to Shelton and mouthed "I love you," and the cameras caught it! He just shook his head in response.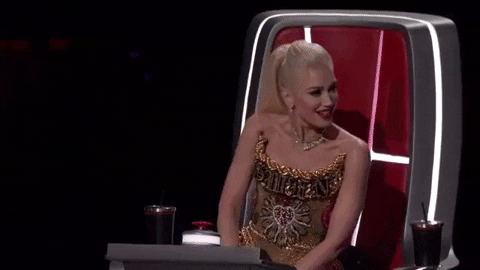 You can watch Stefani mouth "I love you" to Shelton on The Voice by tuning in to the clip below. You should watch the whole audition so you can see how Shelton reacted when he found out he was blocked!
Even though Stefani blocked Shelton, Kelly Clarkson also turned her chair around. But Inskeep could tell that Stefani was passionate about her voice, so she picked her as a her coach. Her block on Shelton paid off in her favor!